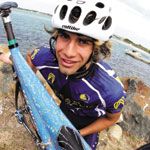 Deadly Vibe Issue 108 February 2006
On the Rebound
From intensive care to the winner's podium – one fella's amazing comeback.
Nine months ago, triathlete Brett Lee's life hung in the balance. He lay in a coma in the intensive care unit at Sydney's Royal Prince Alfred hospital after sustaining a serious throat injury while training in his home town of Forster, NSW. A freak gust of wind had caught Brett off balance while he was cycling, forcing him into the path of a parked 4WD. His throat took the full force of the blow, fracturing his voice box.
If his throat had hit the vehicle a few centimetres to the right or left, his neck would have been broken.
Despite the seriousness of his injuries, Brett made an amazingly fast recovery, astounding his doctors. He was back in training only a month after the accident, and managed to fulfil his ambition of representing Australia at the Triathlon World Championships in Japan last September, finishing 48th out of 72 competitors. The following month, he shattered the race record at the Red Rock-Corindi Surf Life Saving Club triathlon on NSW's north coast.
Brett's achievements have now been recognised by the NSW Institute of Sport. The 19-year-old was presented with the Ian Thorpe/Grand Slam International Award for Outstanding Achievement at the NSW Institute of Sport's annual awards in December last year. The award recognises talented athletes who have managed to achieve outstanding results in the face of exceptional challenges.
The award ceremony was a who's who of sporting glory, with Brett rubbing shoulders with professional cyclists Brad McGee, Matt White, Ben Kersten, track and field star Josh Ross and swimming powerhouse Ian Thorpe, who was Master of Ceremonies for the evening.
Two days later, Brett was accepting another award – a Combined High Schools Blue for triathlon at the Department of Education and Training NSW School Sports Unit awards. This award recognises athletes that achieve both on and off the sporting field, as a role model and in academic pursuits.
With the National Triathlon series now in full swing, we're bound to witness further brilliance from Brett in the weeks and months to come.
(story 1/2/2006 end)
Deadly Vibe Issue 93 November 2004
Fully stoked
When Brett Lee arrived at the Sydney Opera House last month for the Deadlys, winning the Most Promising New Talent in Sport award was the last thing on his mind.
"I was just so stoked to be there, surrounded by all these amazing people," says the exuberant 18-year-old. "My whole family was there with me, and the Opera House and the harbour are just so beautiful."
Brett had only just arrived in Sydney that day, after completing his end-of-year exams in Forster, NSW. He is halfway through his Higher School Certificate, which he is studying over two years instead of one to free up more time for training.
Sporting a brand-new suit and his trademark afro, Brett looked every inch the successful young athlete.
"I got to walk down the red carpet with Nova Peris!" he exclaims.
When he was seated in the Concert Hall with his family, Brett decided to put any thoughts of the award to the back of his mind and just enjoy the show.
"It was such an honour just to be nominated," he says. "And I was pretty sure Willie Tonga had the award all wrapped up anyway."
That was certainly how it appeared to the young triathlete when the nominees for the Most Promising New Talent in Sport were read out.
"This big cheer went up when they said Willie's name," Brett recalls. "I just thought, 'Oh well, he certainly deserves it'."
You can only imagine his surprise when Sharon Finnan and Todd Williams announced that the winner was . . . Brett Lee!
"I couldn't believe it," Brett says with a huge grin on his face. "I was just so shocked.
"And having to walk up on to that stage, when I was shaking with nerves and excitement, was pretty scary."
He needn't have worried, however. Brett's speech, peppered with ums and intermittent whoops of joy, was one of the most touching of the evening.
And the night only got better for this affable young fella. At the post-awards media call, Brett got to meet two of his idols – Olympic sprinter and Male Sportsperson of the Year Joshua Ross, and Olympic hurdler Kyle Vander-Kuyp.
"They were such nice guys," Brett says. "It was so great to meet these athletes that I look up to so much. It really inspires you to keep on reaching for your goals."
Brett has the triathlon season coming up in January, followed by the World Championships in Japan.
"Winning this award means that hopefully I've introduced triathlon to a whole new group of people," he says. "I want everybody to see how good a sport it really is."
(story 1/11/2004 end)
Deadly Vibe Issue 92 October 2004
Beijing Bound?
For most people, the word "triathlon" is synonymous with torture. Even the mere thought of competing in such a strenuous competition would be enough to make most of us feel like a nice lie-down.
But for Brett Lee, triathlons are what he lives for.
"I love it," Brett says simply. "I love to train, I love to compete – even when I'm not winning I love doing it."
Brett is the first Aboriginal triathlete to represent Australia at an elite level. He recently returned from the world junior triathlon championships in Portugal after finishing ninth. Brett qualified for the World Championships after a successful summer of racing, winning three of the four National series races.
"That was the highlight of my career so far," he says.
Brett has loved sport for as long as he can remember, and started competing in triathlons at just 12 years of age. Living in Forster, NSW – the home of the Australian Ironman Championships – it's little wonder that Brett became interested in this particular event.
He's certainly come a long way. Now 18, Brett has been named 2003/2004 Australian Junior Triathlete of the Year, and the 2003/2004 Australian Junior Elite Triathlete of the Year.
Triathlon consists of swimming, cycling and running. For junior triathletes, the competition usually consists of a 750-metre swim, a 20-kilometre cycle and a five-kilometre run. For seniors, it's double the distance. So how does he keep going?
"Of course it hurts," Brett admits. "It really hurts. And each leg has its own sort of pain involved. But I dunno, I still love it."
Triathlon is a time-consuming sport to train for. It takes a lot of dedication and effort to reach the top. An average week for Brett usually involves six days of training, lasting anywhere from two to six hours.
"During a week, I would probably cover distances of around 20 to 25 kilometres in swimming, 200 kilometres in cycling, and 30 to 40 kilometres in running," he says.
Brett also recently took up Pilates, which has improved his core body strength. That, in turn, has improved his running and swimming.
To free up more time for training, Brett is studying for his Higher School Certificate over two years instead of one.
"It gives me more time to train and compete," he explains, "and when I have to go overseas to compete, it means I miss less and it's easier to catch up."
Next up for this tireless young man is the Australian Series in December, February and March. These are also selection races for next year's World Championships, which will be held in Japan.
But Brett's ultimate dream is to represent Australia in the Olympics.
"That, in my mind, is reaching the top," he says. "I've set myself high standards, but as an athlete I think doing that is the way to get the best out of yourself."
What is your full name? Brett William Lee
Do you have a nickname? Bretto, Brettfro
When is your birthday? February 20, 1986
Do you have any brothers and sisters? 1 brother Jake
What's the worst thing about training? Getting to school late
What do you do for fun? Relax and listen to music, eat
Who is your biggest inspiration? Craig Walton and Lance Armstrong
What's your favourite part of Australia? Forster, NSW
What's in your CD player at the moment? Jade Johnno
If you could have any superpower, what would it be? To fly – how easy could I win races then
Who's real deadly in your eyes? Josh Ross
Where do you see yourself in 10 years' time? Travelling the world
(story 1/10/2004 end)