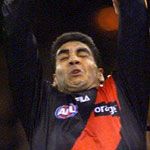 One of the stars from this year's Grand Final winning team, Essendon Bombers, number 43 Dean Rioli like to spend his summer holidays back home where grew up in Melville Island, Northern Territory. Dean says there are lots of things to keep yourself occupied over summer back home.
"I just love to get back home and enjoy the things that I use to do as a kid. Things like swimming at Gulumdini waterhole and the beach, hunting for wallabies, going out into the mangroves looking for mangrove worms and mussels and I love fishing for Barramundi, Salmon or Snapper Fish."
We asked Dean what he got up to this summer.
"I unfortunately didn't get a chance to get back to Melville Island this summer, I just spent a fair bit of time in Melbourne with my girlfriend and my daughter Kiewa Austin but managed to make a getaway to Noosa Beach, Queensland for a bit of relaxing, surf and sun. I'm also a pretty keen bodysurfer so I got down to the beach when I got a chance for a quick dip."
Over the summer Dean still has to be cautious about his training and diet which is important to him.
"I had to watch what I ate over summer and avoid junk food. My training routine is pretty complex consisting of heavy weight training, running and minimum ball skills."
And has Dean ever had a bad experience on his summer holidays?
" I remember playing touch footy at the beach with some mates and diving in for a try, but what I didn't realise was that I was diving head first into a Box Jelly-Fish. I also stood right on top of a Sting Ray once and just missed it's sting by centimetres.
Ouch!
And finally does Dean have a message for our readers for hot the summer months?
"This summer get out there and have some fun."