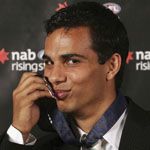 The Real Deal
Deadly Vibe Issue 117, November 2006
While his career is only just getting started, exciting young footballer Danyle Pearce is already running out of room on his mantelpiece.
Two years ago, Danyle Pearce was overlooked in the 2004 AFL draft despite topping the 20-metre sprint, agility run and running vertical jump tests. Recruiters were wary of his ball skills, and Danyle discovered a short time later that he was short-sighted.
Such a set back may have caused other footballers to lose heart. For Danyle, the moment only caused him to set his sights even higher.
Skip forwar d t o the present day and Danyle is the toast of the AFL " the dynamic midfielder becoming one of the most watched players in 2006 and a deserved winner of the AFL's Rising Star award.
Hailing from Edwardstown in suburban Adelaide, Danyle represented South Australia in the AFL under 18s championship in 2004.
After being rookie-listed by Port Adelaide in 2005, Danyle made his AFL debut in round 18. He played in Port's final seven games, including two finals matches, and won the club's Best First Year Player award.
Recognising they had a potential star on their hands, the club and fans were anxious to see how Danyle would cope in his second year playing a full season.
It didn't take long for Danyle to prove he was the real deal. He ended up playing all 22 games of the season, averaging more then 19 possessions a game, kicking 12 goals and receiving a rise star nomination in roun d t hree.
At the end of this season, in one of the most evenly contested fields in the competition's 14-year history, Danyle won the AFL Rising Star award ahead of other top performing young players Andrew Raines, Heath Shaw and Marc Murphy.
One of the shortest and lightest players in the field, Danyle has worked hard at bulking up, and has gone from 68kg in 2005 to his current weight of 78kg. One of his biggest fans is Coach Mark Williams.
"What a fantastic journey Danyle has had in his short career," Mark said after Danyle won the Rising Star award. "He missed being drafted, got rookie-listed an d t hen upgraded, and has since been able to play as exciting a brand of football as you could hope to see from a young player.
"Danyle plays in a way that excites not just Port Adelaide supporters but football fans in general. He runs hard, he carries the ball, he's fast, he's agile, he can tackle, he wins clearances, and he kicks the ball inside-50 and kicks goals. He can do everything you want from a player and is someone young players can look at and say, "˜gee, he's only little and he's only skinny'.
"It just says that AFL football is for everyone."
Adding to the Rising Star honour and a sensational run in 2006, Danyle also polled 13 votes in the Brownlow medal race " a commendable tally, considering only Nathan Buckley has polled more Brownlow votes after winning the Rising Star, with 14 votes back in 1993.
Danyle now has his sights set on emulating another Indigenous recipient of the Rising Star Award " Adam Goodes, who went on from the strong start early in his career to win two Brownlow medals.
"As each year goes past, you want to make an impact," Danyle says.
"I don't want to come out and be a one year wonder. I want to keep improving and hopefully take my game to the next level."