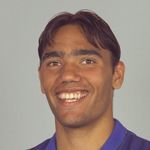 Currently on the Western Bulldogs' rookie list, half forward Damian Skurrie is waiting with bated breath for his chance to debut in 2001.
After playing junior football with Sebastopol Football Club in Ballarat, Damian's skills soon found him recruited to the Western Bulldogs at the end of 2000.
Although not a fulltime Bulldog yet, the 20 year old is already a star player for Bulldogs-affiliated club, the Werribee Tigers, who play in the Victorian Football League (VFL). His good marking skills have been much appreciated by the Tigers, who are currently undefeated and sit at the top of the competition ladder.
Damian grew up in the mountains of Halls Gap, Victoria and reckons there's no place like home. "Halls Gap is such beautiful country, one day when I retire I think I'll move back there," he says.
Damian did his schooling in Stawell, Victoria, a town best known for its annual athletics race, the Stawell Gift.
"It was great to grow up in Stawell. I would head out to the races every year with some mates from school, but I don't think I was fast enough to enter!" he laughs.
When Damian isn't training with the Bulldogs, he's out working as a ranger with Parks Victoria. Day-to-day activities include preserving the Aboriginal cultures of the area, liaising with local Aboriginal communities and ensuring that facilities like barbeques are well maintained.
Damian is also a keen dancer. "Growing up, I learnt traditional dancing and have done it for over 10 years now."
We look forward to seeing Damian dance on the field for the Bulldogs.