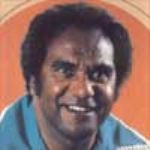 The Centenary of Federation is a good time to acknowledge and celebrate the achievements of Aboriginal and Torres Strait Islander people, and their contributions to Australia during the past 100 years. One man whose contribution to Aboriginal country music has been enormous is singer Col Hardy.
Once dubbed "the gentle giant of country-soul", Col Hardy was the first Aboriginal person to win a Golden Guitar at Tamworth. With his rich deep voice and strong interpretative qualities, he paved the way for future generations of Indigenous singers, country and otherwise.
Col has been in the music industry for a good 30 years, releasing a total of five records including his landmark debut, Black Gold, in 1973. And while he's been a bit quiet of late, he certainly demonstrated his vocal excellence and country pedigree at this year's Deadlys.
Born and raised in Brewarrina, north-western New South Wales, Col is a Kamilaroi man who came from a large family of 11 children.
"I grew up with music all around me," he says. "Before I moved to Sydney I worked in the shearing shed with my dad and we used to listen to the radio at night. In those days one of my favourite singers was Roy Orbison."
Col moved to Sydney in his twenties to pursue a musical career.
"When I first came down to Sydney in 1962 I met a beautiful person, Myrtle Cox, who was very interested in Aboriginal people. She recorded some of my music on a tape recorder and sent it to NAIDOC. And that's how it started – NAIDOC played a big part in bringing me out."
Col was part of the Opals, a country outfit and sometime house band for Jimmy Little's travelling All-Coloured Revue in the early '60s. By the early '70s he was winning over all-white audiences at Tamworth. In the latter part of that decade he would often perform at clubs with Auriel Andrew. All in all he has toured Australia extensively and performed with some of the biggest names in country music. But he will always remember his first big gig.
"When I did my first tour they'd say 'Smile, show us your teeth!'" he recalls. "Coming straight out of the bush and going onstage in front of hundreds of people was pretty daunting. I didn't know anyone and I was the only blackfulla there. I thought, gees, this will open the door for many black people!"
And it did. Nowadays Aboriginal and Torres Strait Islander music is a thriving and thoroughly diverse scene. We have the respected old guard, many of whom are still making wonderful music. We have the well-established names whose ever-increasing profiles amply demonstrate that 'Aboriginal musician' is a viable job description. And we have the new breed – the young guns – redefining what Aboriginal music can be for the next generation. All these people can be heard on CDs, on the radio and onstage.
For Col, it was willpower and a strong determination to succeed that ensured him the success he can reflect on today. "I am very happy. Things have worked out well for me."
Col was the first Aboriginal person to win a Golden Guitar, at the Australasian Country Music Awards in Tamworth in 1973. He was then inducted into the Country Music Hands of Fame a couple of years after that. Then in 1990 during NAIDOC Week, Col was voted New South Wales' Aboriginal Artist of the Year for New South Wales.
When not sharing the gift of his voice with other people, Col works at Taronga Park Zoo.
"I have a wonderful job at the zoo," explains Col. "I work with another guy who takes all the native Australian animals around to visitors, and I tell stories and sing songs and play the guitar. It's really taken off for us."
Col is thankful for two things in life: his music and his family.
"I have always been close to my family. My biggest accomplishments are my sons – I used to love watching them play sport. I'm very proud of them."
Col is a keen supporter of St George, because all three sons have played league for the club. One even played in first grade!
"If Kooris put their minds together, they can also do these things," says Col. "I believe you should never give up. Life has its ups and downs, but you just have to knuckle down and do the best you can."