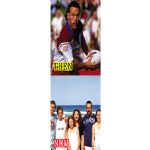 Deadly Vibe Issue 97 March 2005
Lyon Heart
After 25 years in the game, Cliff Lyons is still making magic.
If you've never heard of Cliff Lyons before, than prepare yourself for a crash course in footballing greatness.
Cliff Lyons is one of the most talented and successful league players in the game's history. With the ball in his hands, "Cliffy" was pure magic.
Cliff played for a remarkable 15 seasons in first grade, racking up a total of 332 premiership games. For over a decade he was the on-field architect of the dominance and success that was the Manly-Warringah Sea Eagles.
Originally from Narrandera in the Riverina area of country New South Wales, Cliff move d t o Sydney at the age of 12 and became a junior player for the Cronulla Sharks, eventually cracking the Sharks under 23s side as a second rower. However, he would never see a first-grade game with the Sharks. In 1982 he left the club to play for the Gundagai Tigers.
After trialling for the North Sydney Bears, Cliff's made his first grade debut with the team in 1985. But he wouldn't stay with the Bears for long. After an impressive season, he left to play for Leeds in England before linking up with Manly in 1986. It was at Brookvale where the next and most prolific chapter of his career woul d t ake place.
In 1987, Cliff Lyons came of age. An amazing journey which had begun six years earlier and ha d t aken him from club to club and across the Atlantic and back again, culminated in him winning State of Origin honours, the Clive Churchill medal an d t he 1987 Winfield Cup with Manly.
Cliff would go on to play in three more grand finals in his career, winning a second premiership in 1996. In 1990 he toured with the Kangaroos and won the Dally M Player of the Year, a feat he repeated in 1994.
"It's pretty hard sometimes to look back an d t hink I actually manage d t o do so much," says Cliff, who retired from first grade football in 1999. "Sometimes I have to sit down and really think about it all.
"Making the adjustment into retirement was tough but overall, life after football has been pretty good. The best thing about it is the time I now get to spend with my family."
For the last two years Cliff has been working in the scaffolding industry and still lives in the Manly region, with his wife and four children. His son Shane has followed his father's footsteps into a sporting life and is a talented professional soccer player.
"One of the things I miss most about playing first grade is all the travelling, and just the challenge involved, having to come up with something different every week," Cliff says.
While he may have retired from first grade, by no means was Cliff through with playing. Not only will he be remembered as one of the game's most gifted players of all time, but he will also go down as one of its most durable.
In a sport where many are lucky to last a decade and often suffer from major injuries, remarkably at age 43 Cliff is still weaving magic on the paddock and running rings around many players half his age.
"In 15 seasons of first grade, the worst injury I've had was some media ligament damage in my knee, an d t hat only kept me out for a few weeks during the pre-season," he says.
Last year Cliff played A-grade for Narraweena, who went on to win the grand final. He is still undecided whether he'll play again this year.
"I don't think there has been any kind of secret or reason to how or why I have lasted so long," he says. "I think I've just had some really good luck."
For the future, Cliff has his sights set on a return to the NRL in a coaching position.
"I definitely want to get into coaching, but it's just a matter of waiting for the right time an d t he right opportunity to come along," he says.
With over 25 years of footballing experience under his belt and a winning touch to boot, when his opportunity does arrive, don't be surprised if you see some more legendary Cliff Lyons magic in the making.
(story 1/3/2005 end)