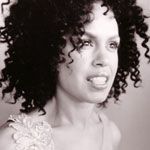 The Reinvention of Christine Anu
Pop princess turns blues diva as Christine Anu embarks on her national Black is Blue tour.
Time certainly flies. It's hard to believe, but it's been 14 years since a young singer by the name of Christine Anu released her first single, back in 1993.
Since then, this deadly talent from Queensland has gone on to become one of our most successful artists, releasing several charting albums and singles. She's also starred on the stage and screen, received a number of awards and sung to the world at the Sydney Olympic Games.
"It's coming up to 20 years that I've been living in Sydney now so I can't really call myself a Queensland girl anymore," says Christine, taking time out from a busy schedule to chat with Deadly Vibe.
"I think you do sort of grow a city mentality after a while. When I go back home people tell me to slow down!"
At the moment slowing down is the last thing on Christine's mind, as she puts the finishing touches on what is a totally new direction for her " bringing the legends of the blues alive on stage for her new stage show, Black is Blue.
"Over the past 10 years, almost every time I've been on stage I've been singing my own songs," Christine says. "I can't wait to get out there and perform someone else's songs for a change!"
Not only will Christine be singing completely different material, she'll be singing in a genre most of her fans may be unfamiliar with. But for this passionate and dynamic performer, this presents one of the most exciting aspects the whole project.
"I'm used to singing in a variety of styles," she says. "I think this is an opportunity for me to be able to show that I'm a genuinely versatile artist.
"The artists who made the blues what it is today are deadly, and this tour is just about honouring them. I want to honour blues in my own way, and I want to be able to experience a different musicianship than the one I've come to know."
While she hasn't been on a tour since 2002, Christine always keeps a busy performance schedule.
"I'm always on the stage," she says. "I might not be in the charts but I'm always gigging.
"It's performance that I love. No two performances are ever the same and every town we go to will be different.
"Performing live " you can't beat that. You can't beat the energy, the spontaneity, the thrill, and the crowds are all different wherever you go."
Christine will be performing songs by some of the most legendary artists in blues music history, from Billie Holiday and Nina Simone to Ella Fitzgerald; all artists she grew up listening to and all stars that she reveres.
"The great thing about singing this genre is that the songs are all really well known and have already been loved long before I was born," she says. "And you know, it's just a black thing.
"Black people have struggled the world over for hundreds of years, and it's through that struggle for survival that blues music was born. I love the spiritual side of the songs, I love where they come from, and I love the passion in it."
The American blues legends that Christine covers are not the only artists in the genre to have inspired her. Here in Australia, Christine has been an avid fan of our own Marlene Cummins for many years.
"I've seen Marlene on stage for years and she's deadly," she says. "When my manager and I were putting this concept together, the first thing I did was go out to the record store looking for blues records.
"Marlene was always heavily on my mind, and then who should walk past the cash register? The lady herself!
"I went up to her and told her I was thinking about doing a blues tour and she said, "˜You can't do it without talking to me!' So we kind of kidnapped each other!"
Fellow Indigenous blues legend Sylvanna Doolan also happened to be in town at the time, so the three got together for a jam.
"It was amazing," Christine recalls. "Marlene dragged out her old collection and there were just so many artists. Where do you start?
"There are all these different styles of blues, and then there's rhythm and blues. But eventually I decided to just stick to the classics."
For Christine, the tour marks not only a significant point in her career but also a new direction for the future. The musical landscape has changed dramatically since her first release, and as the parameters of record companies requirements constantly shifts, artists have to adapt and reinvent themselves in order to find work.
"I think it was born out of the need for a reinvention," Christine says. "I got dropped from a 10 year contract with FMR, and so I needed to create work.
"I think the industry at the moment is being sucked up by reality TV and people wanting to become famous overnight. The record industry is pouring all their money into what they know is going to sell.
"I'm being realistic. I'm not on a television show, so I'm not about to get a record deal. But I need to be able to get out there and maintain contact with my fan base. So I'm just out there to stimulate people who love music, stimulate my fans that love my music and stimulate my own passions for the love of music."
So what can fans expect fans expect from the upcoming tour?
"I expect people to bring more than just their ticket to get through the door," she says. "I expect them to bring their love of music, because what you're going to get from me is honest-to-God raw me.
"The thing is, music doesn't lie. I sing from my heart and my soul and that's where the blues lives in all of us."
Black is Blue kicked off on February 17 at Fairfield RSL and is touring nationally. Tickets for Black is Blue are available from the venues.
NSW tour dates include:
1st March 2007 " The Brass Monkey, Cronulla
2nd March 2007 " The Vanguard, Newtown
3rd March 2007 " Rooty Hill RSL
14th April 2007 " Ryde-Eastwood RSL
For additional Black is Blue dates, check out www.christineanu.com.au or www.williamsonmgt.com for dates.