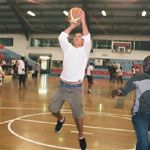 First Newcastle 3on3 a Huge Success!
The National Indigenous Basketball and Hip Hop Challenge – the Vibe 3on3® – celebrated its 10th birthday recently by introducing an all-new, action-packed, one-day festival at a brand new 3on3 venue – Newcastle, NSW.
The community turned out in force to help the Vibe crew unveil the new-look, "Super Saturday" event at the Newcastle Basketball Stadium, on Saturday, August 9, with local participants' smiling faces joined by visitors from Gosford on the Central Coast.
"The Aboriginal community in Newcastle is a really supportive and well-established bunch which meant we enjoyed an extremely successful inaugural event," says Mayrah Butt, 3on3 Producer. "Vibe could not have asked for a more proactive committee or a greater turnout!
"You could tell that every single person who came to the 3on3 had an excellent time, whether they were rapping, rhyming, playing basketball or just watching their kids participate."
Joining the Vibe crew in Newcastle was local track legend Joshua Ross, who spent the weekend hanging out with community members and racing against the kids. Other role models on hand included rapper extraordinaire Brothablack and artist and comedian Kevin Kropinyeri.
One of the highlights of the weekend was the Soulja Boy competition, which has become a permanent feature at the 3on3, with the Vibe crew searching to find the best Soulja Boy dancers in Australia.
"The judges were blown away by the dancing talent in Newcastle, both in the 'Soulja Boy-off' and the break-off," Mayrah says. "Dare we say our Newcastle competitors have become this year's leaders thanks to their outstanding performances? If you're coming to a 3on3 in the near future, make sure you know it!"
A big thank you goes out to event volunteers as well as local sponsors who supported the Newcastle 3on3, the Awabakal Aboriginal Newcastle Cooperative, the Good for Kids Good for Life program, and the Loft Youth Centre.
The Vibe 3on3® is a one day Aboriginal youth festival that incorporates basketball, dancing, art, culture and health. We aim to promote healthy lifestyles, strengthen communities and boost self-esteem. The Vibe 3on3® is also an excellent opportunity for health services and related organisations to introduce themselves to the wider community. For more information, go to www.vibe.com.au
For all media enquiries, please call Mayrah Butt at Vibe Australia on
(02) 9361 0140 or contact [email protected]