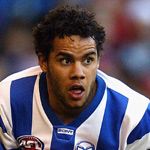 Deadly Vibe Issue 91 September 2004
Last winter, Deadly Vibe featured a story on the 2002 runner-up 'best and fairest' of the WAFL – Daniel Wells. At the time, Daniel was just settling into his first season in the AFL with the Kangaroos, after being picked second in the 2002 draft.
One year on and Daniel hasn't just lived up to all expectations – he has well and truly exceeded them. After a stellar debut season in which he picked up the club's 'best first-year player' award and an AFL rising star nomination, Daniel showed no signs of second-year jitters in 2004.
The elusive half-forward with punishing defence and pin-point kicking has become the Kangaroo's brightest young star and prospect for the future. He has proved himself the kind of player who can turn a game in a heartbeat and single-handedly become the difference between victory and defeat – as he proved in this season's come-from-behind win against Fremantle.
In front of 37,000 fans at Subiaco Oval, with the Kangaroos trailing in a season-defining match, Daniel turned on the magic, grabbing five possessions in the final quarter and kicking two crucial goals late in the match.
One of them was a drop punt along the sideline from 45 metres out. His next goal was so spectacular that it had the entire stadium either rubbing their eyes in disbelief or hailing Daniel as the next messiah.
After a bounce in the goal square, Daniel leapt above the pack, snatching the ball above his head and in the same motion slammed it down onto his boot, kicking it through the sticks for six before anyone could blink.
With feats like these, it's no wonder that he's already been earmarked by fans as the future of the club. Kangaroos supporters everywhere rejoiced when Daniel was offered an extension on his contract to the end of 2006. It was an offer he was happy to sign, having settled in at the Kangaroos alongside fellow Indigenous star and close friend, Daniel Motlop.
It may just be that this potent Aboriginal combination will take the Kangaroos back to the top of the mountain.
(Story 1/9/2004 end)
Deadly Vibe Issue 76 June 2003
Daniel Wells may be a contender for the Rising Star Award in AFL before the season is finished, but this first-year player for the Kangaroos is simply thankful for the opportunity to play in the big league.
And at only 19 years old, he's humble about all the good press that has been swirling around him and his skills on the pitch.
"All the media has been overwhelming," Daniel says. "It's an honour to play with the Kangaroos. I'm feeling pretty lucky to be picked up by them."
Daniel had been playing in the WAFL for the Perth Peel Thunder last autumn when he became eligible for the AFL draft. His selection as the number one draft pick jolted him into the spotlight as one to watch in the new generation of footballers.
Daniel began playing Aussie Rules in his hometown of Port Lincoln in South Australia when he was nine. He says his family always played a lot of footy, which is how he first learned the sport. Daniel was fortunate enough to have a supportive family that allowed him to pick the sport of his choice. "I played with my cousins and at the footy club," he says. Eventually, he moved into district clubs. His focus became more serious around the age of 16, when he started playing particularly well and "everything just fell into place".
This is not the first time, however, that Daniel has received accolades for his agility in the game. A few years back, he was one of 30 players selected by scouts to represent international AFL in the U/16s category. The team travelled to Ireland, where he was further honoured to be chosen as captain of his team. And even though the team did not win the match, he says: "It was an awesome feeling to lead out 20 of the best players in Australia."
Though he would like to travel overseas again one day, he's looking to the immediate future and building his burgeoning career with the Kangaroos. This means developing his strength and adjusting to the increased demand in weight training. "At the moment I need to put on weight," he says. "In Perth we didn't do much [weight training]. I'd like to get stronger for tackles." But if anyone has seen Wells (as his team-mates call him) play, you would know that his speed and quick footwork have worked to his advantage and keep him out of trouble when big players are coming at him. He's been able to "get out of their way without getting hit most of the time".
Being not just a new player but also so young has been intimidating at times in making the jump from WAFL to AFL. "The intensity is so quick – it's a whole new game," Daniel says.
Fortunately, he has had a lot of support and encouragement from his team-mates. "I was pretty nervous at the start of the season," Daniel says. "The older players made me feel welcome and they come up to you to see how you're going."
Nevertheless, Daniel seems to take it all in his stride and he says he'll keep playing hard. "I played the first four games and you never expect to play the first four games in the season."
And what happens when there's a big match coming up? Referring to his team-mates, Daniel says: "They're all stand-out players. The way older players help you out and give you advice is really something special."
If at any time he feels particularly nervous, there's always his family who can provide plenty of advice. In fact, the club has encouraged him to stay close with his family. His coach, Dean Laidley, also has a lot of confidence in Daniel's playing ability. Daniel says his coach is "easy to talk to and to approach".
Even though Daniel says he misses Perth, he has certainly found a home with the "˜Roos in Melbourne. He likes to spend time with his team-mates even off the field (his flatmate is fellow player Hamish McIntosh). For a young man with so much potential and so much success thus far, good things are sure to continue.
What is your full name?
Daniel Wells
How old are you?
19
Where are you from?
Port Lincoln, South Australia
Where's home?
Port Lincoln
Were you born there?
Yes
Do you have siblings?
I have two brothers and three sisters
What do your friends call you?
Wells
What was the first AFL game you ever saw?
West Coast or Brisbane
What team do you play for?
North Melbourne Kangaroos
What positions do you play?
Half-forward and wing
Do you have any pre-game rituals?
No. I just go out and play.
What team did you follow when growing up?
Port Adelaide and the Eagles
What sport do you follow in your spare time?
Basketball
What's the funniest thing you've ever done on a sports field?
I once wore my shorts backward for a whole game
Most fulfilling experience in your life so far?
Playing the first game of the season as my first professional AFL game
What are you expectations for yourself and/or your team this year?
Just to take what I get at the moment. A lot of people are doubting the team, so I hope we do well.
What do you do on your days off?
I'm taking a computer course.
Who was your role model growing up?
Robert Harvey (of the St Kilda Saints)
Who is your favourite Aboriginal or Torres Strait Island musician?
Archie Roach
What CD are you listening to?
Bone Thugs N' Harmony
What was the last movie you saw?
X-Men 2
What is your best asset?
I'm easy to talk to
What's your favourite colour?
Dark blue
What would you most like to change about yourself?
Nothing. I gotta accept what I got.
Who's real deadly in your eyes?
Patrick Johnson
If you could have anything printed on a T-shirt that you had to wear for the rest of your life, what would it say?
Time and inches
What's your favourite place in Australia?
Perth
What animal are you most like?
A cat
Where do you see yourself in 10 years?
Still playing with the Kangaroos
(Story 1/6/2003 end)

>