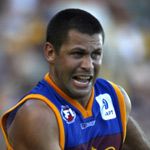 Deadly Vibe Issue 98 April 2005
Best in the Business
He's got the experience, he's got the skill – Chris Johnson is the pride of the Lions
The Brisbane Lions can feel confident in another successful season with a player like Chris Johnson on their side.
Originally a forward and renowned goalsneak, in 2000 Chris moved on to the back line, and is now known as one of the best small defenders in the business. He has twice been named on the All-Australian squad – in 2002 and 2004 – and this year captained the victorious Aboriginal All-Stars in their game against the Bulldogs.
"To be part of the All-Stars, and to be on the field with all of them, is the most amazing feeling," Chris says of the game. "There's a real sense of camaraderie – not that we don't take the game seriously. We take it very seriously. No-one holds back, you know?
"But to play together like that, on a team that's all-Aboriginal – you just can't describe the feeling."
Chris' experience (this is his 12 th season) and skill were not just an asset to the All-Stars. His evasive skills, great footwork and attacking defence are a crucial ingredient to the Lions' back line, and the team is noticeable weaker without him. Last year's grand final side will be relying even more heavily on Chris this year, following the retirement of Alastair Lynch, Shaun Hart and Craig McCrae, as well as the loss of Aaron Shattock to Port Adelaide and Blake Carcella to Collingwood. But Chris is looking forward to the season ahead, and speaks confidently of his team's abilities.
"It's exciting to have some fresh young blood on the side," Chris says of the team's new line-up, which includes newcomer Anthony Corrie. "Some of the newer players may not have as much experience, but they know our game plan and they've certainly got the talent. I'm feeling confident. I reckon if we get through the first five rounds we'll do well."
Chris is hoping to once again be selected for the All-Australian side at the end of the year, but for the time being, he has more pressing issues on his mind.
"Of course I'd love to be selected again, but at the moment I just want to put that at the back of my head," Chris says.
"I want to get through the season first – without injury or suspension, I want to make sure I don't get too many goals kicked on me, I want to get my weight down, and of course I want to win.
"I'll be putting in 100 per cent."
(story 1/4/2005 end)
Deadly Vibe Issue 87 May 2004
Chris is an exciting player whose game was reinvented by Matthews in 2000 when he shifted Chris, previously a forward with a great reputation for sneaking goals, to playing in defence. At 180cm he is not a tall man but that didn't stop him, and before long he was widely considered the best small defender in the business. Chris's evasive skills, great footwork and versatility are crucial parts of the Lions' defence, and the side really felt his absence when he missed several weeks in 2003 through injury. Melbourne-born Chris made his first-grade debut with Fitzroy in 1994, and now at 27, he is already a "young veteran" of the game. In fact, he is the sole survivor of the old Fitzroy team that merged with the Brisbane Bears in 1996 to form the Lions. Opponents beware: when Chris plays well, so do the Lions.
(Story 1/5/2004 end)