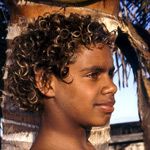 Deadly Vibe Issue 85 March 2004
Dale Richards says that surfing just came easy to him. And that's not hard to believe, considering the 16-year-old can already execute some of the sport's most challenging moves with eye-catching precision and graceful ease.
While still very much a developing talent, Dale balances his abilities with the perfect approach and outlook. While his sights are set high, most importantly his head is in the right place.
"I want to be the top Indigenous surfer in the world, and the first to reach the top 10 in the QS (Qualifying Series) and CT (Championship Tour)," says Dale with all the confidence in the world.
Dale is one of those enviable people who seem to have a magic touch – a natural-born talent who wields an uncanny knack to slice through, over and above waves that others with years of training can only dream of.
Like many Australian sports, surfing boasts a bevy of gifted Indigenous people. Among this elite surfing community, Dale is regarded as a rising star with the potential to eclipse all others.
When Deadly Vibe put the question to some of the most respected Indigenous surfers around about who was the best up-and-coming talent in the country, Dale's name was the one that kept popping up.
Dale lives 10 minutes from the beach at Tweed Heads. He began surfing at 11 after bodyboarding simply became "too boring".
"I picked up surfing up right away and really liked the challenge. It was harder but also a lot more fun, and from there I just kept surfing more and more," says Dale.
Surfing now holds sway over all things in Dale's life. The only challenge is the struggle to find maximum surfing time in between school and other important commitments.
"I try to surf every day, which gets hard at times because of school and homework but my school helps me out a lot with that," he says.
Through his school, Dale gets to surf on Mondays and Fridays. He then trains after school on Tuesdays with former pro turned surfing mentor Dave Davidson, who has watched over Dale for the past four years.
"Dave has helped me heaps," says Dale. "One of the most important things he tells me is not to get too cocky and not to get a big head."
Dale also receives plenty of support from other areas, most notably from his family and friends.
"My family always encourages me to try my hardest and remind sme not to forget them if I get too big," says Dale.
Competitively, Dale already has an admirable list of achievements. In 2003 alone, he finished fourth at the Brothers Nielsen Grommet Challenge. He also reached the quarter-finals of the under-16 Australian titles held at North Stradbroke. He grabbed fourth at the NSW state titles at Cronulla beach, and came in second at the Indigenous Worlds at Fingal in the under-18 division.
Although he has had the opportunity to travel to beaches around Australia thanks to his surfing ability, his favourite surfing locale remains Snapper Rocks at Coolangatta. His ultimate surfing destination is the legendary beaches of Indonesia – a place he may well be travelling to in the future on a professional level.
"I enjoy competing but I try not to put too much pressure on myself," says Dale.
"I just go out and try to surf my best and enjoy myself, then see what happens at the end of the day.
"Sometimes I'll get nervous before an event, depending on who is in the heat. Usually, I'll just try to chill and once I get that first wave and start doing good, it all disappears."
After surfing for only a short time, Dale has already put the surfing world on notice. With a long list of sponsors that includes Quiksilver and Channel 9, Dale is quickly shaping up as the 'next big thing'. And with plenty of talent and a mature, down-to-earth attitude to boot, there's no telling how high Dale's star will rise.
What's your full name:
Dale Brett Richards.
When were you born:
March 2, 1988.
Where are you from:
Coolangatta.
Where is home:
Tweed Heads.
Do you have any brothers or sisters:
Two brothers and two sisters.
What's your favourite part of Australia:
Home.
Who is your favourite Indigenous sportsperson:
Dean Morrison – because he's cool and always talks to people.
Favourite colour:
Black.
Favourite number?:
2.
When did you start surfing?:
When I was 11.
What's the funniest thing that has happened to you while surfing?:
Seeing Nathan Hedge surf nude at a Quiksilver event at Snapper.
Who's your favourite band:
Linkin Park.
What animal are you most like:
A snake.
What has been the most fulfilling experience of your life so far:
Catching the biggest barrel of my life at Greenmount beach.
Who's real deadly in your eyes:
Dave Davidson.
If you could travel anywhere in the world, where would you go:
Sri Lanka and the islands around Bali to surf.
Where do you see yourself in 10 years' time:
Doing the QS and doing well in the CT.
(Story 1/3/2004 end)