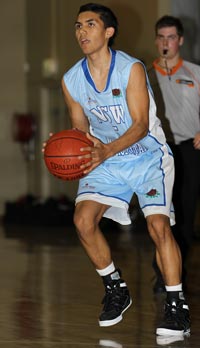 Young basketball player Jaden Weldon is shooting for the heights in his chosen sport – basketball. At just 14, he is playing in the successful Under 16 Sydney Comets team and he has his sights set on playing for Australia.
Wiradjuri boy Jaden, grew up in Sydney and started playing basketball at the age of 9.
"When I was 6, I tried out for various sports. My family played basketball, so I got involved in the game from there," Jaden says.
Jaden has won a scholarship to Trinity Grammar School at Summer Hill, Sydney and is in Year 9. He is playing in the school's first team as well as a representative team for private schools.
Jaden also plays in the Sydney Comets Under 16 side in the Sydney competition. The Comets won the Division One Grand Final this year.
His mother, Paula says Jaden always stood out as a player.
"He was playing under 12s when he was only 9," she says.
Jaden plays in the NSW Under 16 basketball team, which competed in a national tournament in Victoria in July. Jaden also played at the State Championships in August.
Paula says though Jaden has a lot of commitments, he manages to balance his sporting and academic responsibilities.
"He is a very determined and focussed young man who loves to train. He focuses on his studies as well. He knows he needs a balance in life and that education is the key to a successful future," she says.
"He is on the right path. Hopefully he will try out for the under 17's Australian team soon – he is in the state team and the coaches nominate the young stars to try out."
Jaden says he wants to play for Australia, as well as play in the NBA competition, but his ultimate goal is to play for an American college