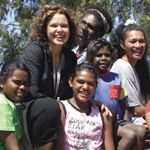 Deadly Vibe Issue 94 December 2004
There was a massive birthday party when the Queensland town of Cherbourg turned 100.
The Queensland community of Cherbourg pulled out all the stops in October for a huge celebration commemorating the town's centenary.
Cherbourg, located 250 kilometres north-west of Brisbane, was established a century ago when Aboriginal people from the Wakka Wakka tribe near Woodford became the first residents of what was then known as the Barambah Reserve. In 1932, the reserve became known as the Cherbourg Settlement.
Over nine fun-filled days, the community put on a range of activities to honour the community's past, present and future. Celebrations kicked off with a special centenary ball. This was followed with a Wakka Wakka rodeo, a golf day at Goomeri and a huge centenary arena spectacular " an open-air extravaganza that depicted the history of the area with dancing, singing, horse-riding displays and a giant fireworks display.
Over the course of the next week, the town enjoyed special services, displays and performances, including the opening of the Ration Shed, a building used in the 1920s to distribute food rations. It will now house historic photos and a timeline showing the settlement's history.
There was also a procession of floats entered by community organisations, an art workshop featuring home-grown superstar Leah Purcell, a cinema night, bingo and a Sea of Hands display by ANTaR (Australians for Native Title and Reconciliation).
A Cherbourg Centenary sports dinner was also held, during which a Cherbourg "˜team of the century' was nominated. This team commemorated all the champion footy players that have come from the area. Canterbury Bulldogs legend Willie Tonga was a special guest.
All in all, it was quite a party " residents living in Cherbourg in 2104 will have a lot to live up to!
(story 1/12/2004 end)