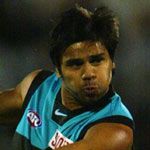 Che was born in Brisbane back 1975 the second eldest in a family of two sisters and twin brothers Donald and David (who last season played for the Melbourne Demons). Che spent his early childhood in Brisbane and Cairns. And it was there (Cairns) he started his football career; playing juniors for the Cairns City Cobras Australian Football Club. Moving to Adelaide with his family while still at school, Che signed with local club the Port Adelaide Magpies.
At 17 years-old, Che was signed to the one of the finest AFL Clubs, the Essendon Bombers playing with other Indigenous players like Michael Long and Gavin Wanganeen. And it was here that Che developed his magical style of football and quickly earned his the nickname 'Cocky'.
While playing footy with the Bombers Che was part of the team which dominated the pre-season competitions, twice winning what's now known as the prestigious Ansett Cup.
"The highlight of my career was playing for the Essendon Bombers in 1994, when we drew with Collingwood on ANZAC Day in front of 95, 000 fans," Che remembers.
After signing to Port Adelaide in 1999 Che spent last season on and off the field, with a nagging back injury. But in 2001 Cocky Collins has hit his straps once more, and has been playing like the warrior. He has been well and truly on the best players list in all his games to date, and has again asserted himself on the whole league as one of the sports true elite.
"This year my preparation has been centred on extra sessions as well as mental preparation," Che says.
"I want to prove to everybody I can again mix it with the best AFL players in Australia," he added.
And how! You see, he's right linking up with greats; like Brownlow Medallist Gavin Wanganeen, the cool calm and collected Fabian Francis; and of course youngster Peter Burgoyne.
These four warriors make magic and please footy fans, coaches and critics alike when playing together. They find each other all over the ground, with a mixture of experience and youth, they played a major role in Port Adelaide winning the 2001 Ansett Cup, against the Brisbane Lions. After that victory the club is now in a great position, sitting firmly in the top five.
Weighing in at 85 kilos, Cocky Collins doesn't mind mixing with the giant men of the game. He seems to be always on the ball, either picking it up when it's on the deck or showing true courage by attacking with no fear.
" Uncle Robbie Cockatoo a former North Melbourne player, has been a great influence on my football," Che explains.
"I always respected and looked up to him and dreamed to be just like him."
And Che's message to young brothers and sisters?
"Don't let any obstacles keep you down, don't give up keep trying hard."
But its all not football. When Che's not pulling on his number twelve Port Power jumper Cocky loves nothing better than to sit in front of the TV watching rugby league and cricket. And he says his favourite meal is Damper and bullie beef stew cooked by Nan.
So there you have it, Vibe readers and footy fans. If you're at the big game with your war paint on or even just glued in front of the TV be sure to keep your eye on your deadly brothers from Port Adelaide, like Che (Cocky) Cockatoo- Collins.
And what does Mr Geoff Clarke say to footy fans?
"Keep an eye out for stylish goal kicker youngster Leon Davis and Nathan Lovett- Murray from Collingwood. Rookie centre half forward Damien Scurrie is a new signing for the Bulldogs, and what a big look!
Consistent performers for the Sydney Swans Forward Michael O' Laughlin and Ruckman Adam Goodes also get a big ticket from Mr Chairman!