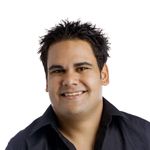 >DEADLY VIBE ISSUE 72 February, 2003
Wiradjuri fulla Todd Williams has become the first Indigenous person to win Tamworth Country Music Festival's Toyota Star Maker Quest in its 24-year history.
The emotional win, which gives Todd a car, a recording contract and a full round of gigs for the next year, means he is well on his way to following in the footsteps of his idol Troy Cassar-Daley.
Todd cried on stage in Tamworth when he was named the winner of the quest, which is a national launching pad for emerging talent. Previous winners include Lee Kernaghan, Beccy Cole and Gina Jeffreys.
The win means Todd will have the full attention of country music big-wigs when he launches his EP later this year.
There were only 20 Star Maker finalists, and Todd made the cut from thousands of entrants.
"I found Star Maker on the internet, then I sent in a couple of demos and a bio and a photo. I got selected because of my bio and demo. I was the first Koori dude to graduate from the Country Music College in Tamworth," says Todd.
Performing in front of thousands of people at the Toyota Star Maker Quest was an exciting experience for the young performer, who says he prepared by doing some performances around Dubbo with his uncle.
"I was a bit nervous but I'd been doing a few shows with Luke, my uncle, which had given me a bit more exposure and experience. We did a few duo shows around Dubbo and without that experience I think I'd have been a lot more nervous. But there's always that tingle in your belly. I think that's been the biggest highlight in my career. Hopefully now I can go a bit further in my life," says Todd.
Going further won't be difficult for Todd, whose single, Love of My Life, has already received substantial airplay throughout NSW and Queensland. The single was also selected to be included on the sought-after Noise CD that was distributed around Australia on the front cover of Rolling Stone as part of the Noise Festival.
Hailing from Wellington in central NSW, Todd got his first big break playing a support gig for Troy Cassar-Daley in his home town.
"I've got the support of Troy Cassar-Daley, who's got me up in a few shows. I've known him since I did the first show as a support act for him in Wellington. In Wellington I'm a local, so they just rang me up and asked me if I'd do a support act with Troy and that was a big buzz," says Todd, who is still more than a little overwhelmed by his success.
"He's been a big inspiration to a lot of young Aboriginal artists and to me especially. It feels like I'm his mate now and he's said he's going to support me all the way "¦ it's a real privilege to have someone like him on side," says Todd.
In an industry where it certainly helps to know the right people, having the support of a legendary performer like Troy Cassar-Daley is something most artists would kill for. But it's not just country superstars that are on Todd's side. The talents of the up-and-coming performer have also secured the support of well-known producers John Kane (who produced Anne Kirkpatrick) and James Gillard (who has worked with the likes of Shanley Del, The Fargone Beauties and Broderick Smith).
"I applied for the Which Way project with Music NSW and was selected to go into that in 2000/2001. I took The Love of My Life in and John Kane helped produce it and co-wrote it with me. It's been played on air in Queensland and a lot of the regional areas," says Todd.
His single, released through the Australian Music Radio Airplay project, received rave reviews and significant airplay throughout last year. So now, having got his confidence up, Todd is looking towards releasing an EP and perhaps an album later in the year.
"The co-ordinator of Which Way, Rose Pearce, hooked me up with John Kane and James Gillard. Since then they've been by my side and we've been doing a lot more recording. We're in the process of doing an EP with a couple of my songs and a couple of cover songs," says Todd.
All in all, 2002 was a huge year for the young singer/songwriter, whose career started when he was out with friends and was dared to strut his stuff at karaoke. With this year destined to be even bigger and better, Todd is grateful that he had the courage to take his friend up on the dare.
"I was dared into going into a karaoke contest and I came out the winner. I thought, "˜This might be what the future holds'. I sure was nervous. I was surprised when I won and so was my family – they didn't know I had a bit of talent. I've been brought up in a family where we always used to sit around and sing gospel songs, but that was my first real public performance," says Todd.
Todd still can't quite believe it's all happening. But he says the support of his family and friends have made the journey a whole lot easier.
"My mother and father have been behind me all the way since day one. It gives you the incentive to keep pushing and to follow your dreams. I know now my dream is to become a country singer," says the dedicated young performer. "I enjoy singing and I like to see people smiling."
His family not only support him as a musician but have also been an inspiration when it comes to song-writing.
"I write about life experiences. Sometimes you sit down to try and write a song and you think and you can't come up with any words, but with life experiences the songs just come straight to you. I write about things like love, relationships, anything like that. I actually wrote a song about my mother and father called I Have Been Loved," says Todd.
Todd, who has not had any formal music training, writes most of his songs on the guitar.
"A lot of people have different ways of writing songs. My way is I just muck around on the guitar with a melody and the chorus comes first and I just work around that," he says.
While country music is Todd's first love, he is not a total purist and enjoys most other music genres.
"I like all styles of music. I listen to R & B and go out and dance the night away but I mainly grew up with country. I like the storylines. I notice in a lot of other styles there's no storyline and I like to sit down and listen to the words. I think that's the best thing I like about country," says Todd.
Todd grew up listening to Merle Haggard and Ronnie Wilson, but says his biggest influence lately has been his friend and mentor Troy Cassar-Daley. He believes it is through the work of indigenous artists such as Troy that he has not encountered racial barriers standing in his way of becoming a country singer.
"I think Troy Cassar-Daley's broken down a lot of those barriers now. It's just the love of music I think that everyone cares about now."
Todd hopes that one day he can be there for other up-and-coming artists in the same way that he has been supported by Troy. And for those wanting to follow in his footsteps, he has some simple advice.
"Believe in your dreams and what you can do and maybe one day they'll come true with the right people behind you. Keep going and keep it up."
Deadly words from a truly deadly fulla.