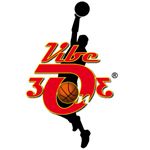 The National Vibe 3on3® Basketball and Hip Hop Challenge was blown away by the support, talent and enthusiasm displayed by the local community at the first ever Echuca 3on3 held over the weekend.
Held at the Echuca Fonterra Sports and Entertainment Centre on Saturday February 20, the local participants' smiling faces were joined by Yorta Yorta Elder, Uncle Rick Ronin who welcomed us to Country along with distinguished guests The Hon. Dr Sharman Stone MP, Federal Member for Murray and Cr. Peter Williams, Mayor Shire of Campaspe.
Vibe was honoured to have celebrity guest role model and Australian Living Legend, Uncle Jimmy Little along to perform and speak to the kids about eating Good Tucker for a Long Life. He was joined by Singer/Rapper Lady Lash, BBoy Jason Campbell and dancer Medika Thorpe who spent the day hanging out with the kids and teaching them some new skills.
"Vibe is beyond excited about the fantastic support shown by the people of Echuca and thanks them for welcoming the Vibe 3on3 so warmly into their community" said event producer Mayrah Sonter.
"2010 has certainly begun with a fierce standard of competition, talented dancing and community pride and we can't wait to return."
A big thank you goes out to the local sponsors who supported the Echuca 3on3. They were the Njernda Aboriginal Corporation, the Shire of Campaspe and Rod's Meats. A big thank you also goes out to all volunteers, who helped make the Echuca 3on3 such a memorable one.
The Vibe 3on3® is a youth event that incorporates basketball, dancing, art, culture and health. We aim to promote healthy lifestyles, strengthen communities and boost self-esteem.
Congratulations to the winners in the various categories.