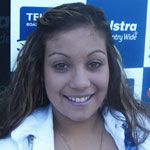 Deadly Vibe Issue 106, December 2005
Stars in her Eyes
This young musician has Nashville in her sights.
When it comes to country music, Indigenous Australia has its fair share of talent " Troy Cassar-Daley, Todd Williams, the Donovans, Auriel Andrews, Vic Simms, Warren H. Williams " the list goes on and on.
There is also a surging wave of young Indigenous talent making its way into the spotlight, as this year's Tamworth Country Music Festival showed us. One of the latest of these rising stars to appear on the horizon is Catherine Sumner, who recently won her heat in the Telstra Road to Tamworth competition and is now on her way to next year's Tamworth Festival
Catherine has been singing since she was only nine years old, and has won countless prizes over the years. She can play both the piano and the guitar, and recently recorded a CD which she co-wrote with her father.
At just 17 years of age, Catherine took out the Murray Bridge heat of the competition, wowing both the audience and judges from Allied Artists with her renditions of Lee Kernaghan's Diamantina Drover and Vanessa Williams' Colours of the Wind.
As part of her prize for winning the heat, Catherine was awarded $1000 to assist in her trip to Tamworth Country Music Festival next January to compete in the finals.
The ultimate winner of the competition will receive a whole swag of prizes to assist them in their career, including a trip to Nashville in the United States, where the get the opportunity to record a single through Sony BMG.
"It will be fantastic to head to Tamworth for the finals," Catherine says. "It will be such a great experience for me, and of course the trip to Nashville if I won " well, that would be just a dream come true!"
(story date December 1, 2005 end)