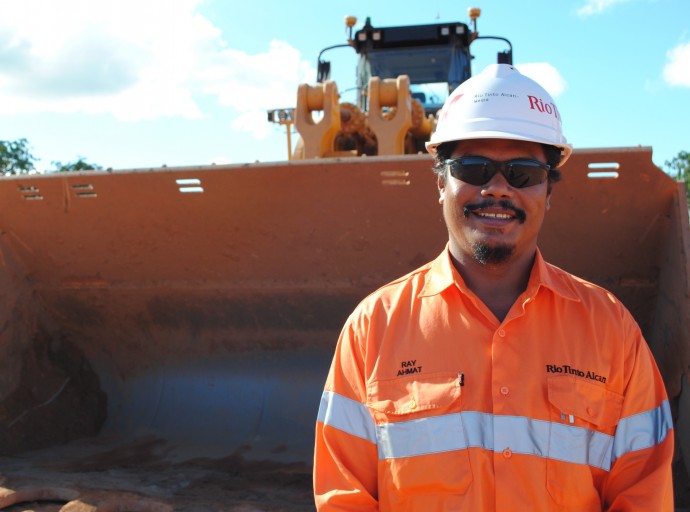 A Yupungathi Traditional Owner and Weipa-based mining superintendent won state-wide recognition at the Queensland Resources Council's Indigenous Awards, held this week in Brisbane.
Ray Ahmat took out the prestigious Overall Indigenous Award for his exceptional contribution as a role model in the Queensland resources industry.
As the first local Aboriginal superintendent at Rio Tinto Alcan's bauxite mine in Weipa, Mr Ahmat leads a large operational team of over 170 people, managing both pre-mining and post-mining activities.
Weipa's bauxite mine has Rio Tinto's highest Indigenous participation rate in Australia at 22 per cent and is intrinsically linked to the local community with three Aboriginal agreements underpinning all operations and activities.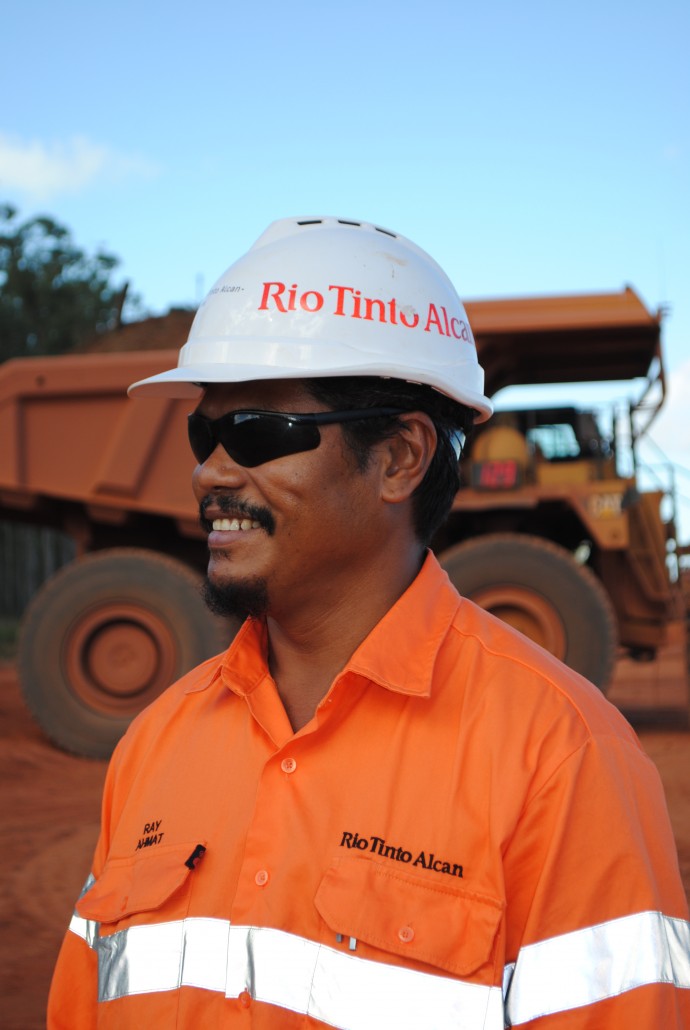 Having worked for the mine for 15 years, Mr Ahmat says Weipa provides excellent employment opportunities for local Indigenous people and encouraged others to follow in his footsteps.
"Winning the overall Indigenous award is very humbling, and I am very proud to be representing not only the business, but the Yupungathi Traditional Owner Group," says Mr Ahmat.
"My family and I have strong connections with the land on which the business operates, and I feel a responsibility to build upon the foundation my parents and elders created many years ago.
"The broad range of careers available with a world-class operation right on our door step provides a unique opportunity to develop local talent in a remote Australian community.
"I look forward to continuing to ensure we operate in mutually respectful way, now and for generations to come."
Mr Ahmat shares a strong family history of employment at the mine, where his mother and father worked for 28 and 32 years respectively.
By taking on challenges, leading crew leading and coordinating mine services, Mr Ahmat progressed from driving trucks in 1999 to being appointed in his current role as Mine Development superintendent in 2012.
Mr Ahmat also sat on the board for several committees under the Western Cape Communities Co-existence Agreement (WCCCA), which is one of the three Aboriginal agreements Rio Tinto Alcan Weipa operates under.
"As a board member I had to balance several perspectives as Traditional Owner, Rio Tinto Alcan employee and Weipa community member, and that was no easy feat," Mr Ahmat says.
"Wearing these three hats gave me a unique perspective to deliver positive outcomes for the WCCCA in the areas of land management and Indigenous employment."
Mr Ahmat's leadership extends beyond his team, being involved in the site recruitment process as a role model for mine operators; including Indigenous and non-Indigenous people and local Aboriginal trainees.
Rio Tinto Alcan Weipa general manager, Operations, Gareth Manderson says Mr Ahmat is a key part of the mine's leadership team, and a great ambassador for the business.
"Ray and his team played an integral part in helping to achieve a 50 per cent increase in production rates during a ramp up phase of the operation," Mr Manderson says.
"His commitment to diversity as one of the key focus areas of our business has resulted in a 30 per cent Indigenous participation across his team alone.
"Ray is known for his strong commitment to safety which has supported the mine's improving safety performance over the last 18 months."
Rio Tinto is one of Australia's largest private sector employers of Indigenous Australians. The group employs around 1700 Indigenous people across its Australian operations including 250 people at Weipa.