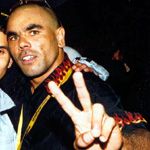 Deadly Vibe Issue 44 September 2000
The Bawrrung Buljurr Girrwaa (BBG) are a four piece hip hop outfit based in northern New South Wales, who are hip hop artists with an edge.
The four members are consist of four people, Wire (Will), Couch (Paul), K-Lyte (Kel) and Sim (Simon). They have been writing and researching original material for over six months and have evolved from a common and genuine feel for hip hop music.
They already have four songs that have been getting of local radio 2NVR, and have completed the recent Which Way program.
Deadly Vibe caught up with Will Jarrett of BBG, during his time at the Which Way project in Sydney where the band got to record two of their songs, Observe the Word and Ill Phenomenon.
He and his band had a great time in Sydney, and got quite a bit more than he expected. The band had the opportunity to gain a lot of skills and information.
BBG find musical inspiration locally, as well as from personal and social issues of the day. They describe their music as a format to let people know what they are thinking.
"The style of music just came about," says Will. "We all play instruments and we all like hip hop music and we thought lets just try and blend these elements together although it's nothing new – its new for us."
The band really put their whole selves into their music, and, with limited resources, got their music air play on community radio. And they are really enjoying it aspects of being members of a band.
Will was formerly in a guitar based band, and really wanted a change. In BBG he plays both guitar and keyboards, quite a versatile band member.
Will made a lot of new friends and contacts at the Which Way music project and took back to his home town lots of ideas, inspirations and aspirations.
"My aspiration is to get the whole world dancing," proclaims Will.
"The business side is something I've never really thought about. It's something I've always tried to avoid. I wish I was a muso back in the olden days where you walk around and play a song and get fed. There was no copyright or that sort of stuff,"
BBG are concentrating on self management skills with and getting set up in the northern NSW. And it's not that easy, being where they are and the music that they are playing, he says can be quite limiting.
Vibe thinks you are excellent, and look forward to hearing more of your deadly sounds.
(story (1/9/2000 end)