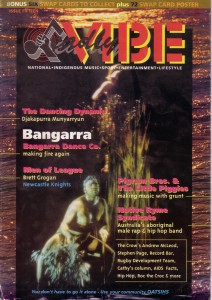 I remember the first time I saw Djakapurra walk on stage. There was a kind of hush all over the world.
The Bangarra audience was very quiet and very well behaved as the house lights dimmed. Once Djakapurra entered the stage to David Page's Haunting score Ochres, every person stopped breathing and the theatre was completely still.
From memory, I stopped breathing as well and along with the rest of the audience hung on every movement of this traditional dancer and didgeridoo player from Yirrkala, north eastern Arnhem Land.
Talk about stage presence, Djakapurra has it by the tonne! He is the beginning and the end of each show and a constant reminder to the audience about what is meant by respect, culture and heritage.
This month we also look to Djakapurra's Bangarra brother Steven Page, a man's name that has become synonymous with arts and culture in this country.
To us at Deadly Vibe his name has also become synonymous with what is meant by drive, talent, enthusiasm and achievement. He is the finest example of what dreams and visions mean and making them real. Do you want to know what the best thing is? He does it without hurting anybody along the way. Stephen's way means everybody can have it all and benefit.
I'm sure there are many more dreams to come true both in Australia and all over the world in the next few years. And this is true with or without the Olympic Games. It's rumoured that Stephen Page has a big part to play in Sydney 2000 and maybe even the opening ceremony.
And wasn't Australia the lucky country when we were handed the fire for the Olympic flame in Atlanta. Aboriginal culture showed the world that Australian have class and culture. And then came the humping roos.
It's very important to note that no man can do it alone. And all who are Bangarra Dance Company; all the dancers, young and older, together with the administrators and managers make the company what it is; a jewel in the crown of the Australian arts industry.
As well as Bangarra, this month we also showcase the newest Broome bomb shells, The Pilgrim Brothers. It's been far too long between drinks for these guys who we remember Scrap Metal. Talk about reinventing yourselves! Their brand new album is out now and hopefully you will soon be able to get it through the Deadly Sounds Record Bar.
Their folk, rock and soul songs makes each track distinctive, meaningful and moody. If you close your eyes you can almost smell Broome!
But wait there's more. A lot smaller but Pigram's from Broome, none the less. They are the little piggies and they have an album out as well, featuring the song which captivated everybody at Survival '98', 'Teach Your Children well.'
In Deadly Vibe sport we update you on the Hunting for Australian Tiger program, where the National Aboriginal Sports Corporation of Australia is focussing on Aboriginal golfing talent.
We also catch up with the Lloyd McDermott Rugby Development fund, and what's happening on that front with international touring and national competitions.
Big news this month for us is the launch of our national Deadly Sounds Record Bar. We hear all the time that nobody knows where to buy Aboriginal and Torres Strait music. Only some outlets stock the music and usually they only have a limited supply of the most well known artists.
Well that's all about to change. Maybe we only have five artists on our books at the moment but if you have music and you want to sell it. Give us a call and you could be on the shelves of our record shop. Not to mention if you want to buy a couple of CD's as well. And watch this www.space.
Deadly Vibe and Deadly Sounds will soon be on the Internet and World Wide Web.
Until next month
Gavin Jones
Dear Gavin & Team,
I am an avid reader of your magazine and really enjoy some of the topics covered in your issues. I especially like your sports bits about out top Aboriginal sports athletes, those that are up and coming and those that are already recognised.
Being an Aboriginal sports Development Officer with the NSW Department of Sport and Recreation, the information printed in your magazine gives me insight into area of some sports that I don't deal with in my area. Also I find I can refer to your magazine when asked questions by school children and young athletes.
Cathy Peachy
NSW Sport and Recreation
Dear Cathy,
Thank you for your letter and thank you for your comments and suggestions, especially in the area of sport, not just football and netball. Please keep us informed of young people in your region and tell other sports development officers to do the same.
Keep reading Deadly Vibe
Gavin