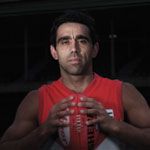 All about Adam
Deadly Vibe Issue 117, November 2006
Swans' Best and Fairest, the Skilton Medal, a Grand Final appearance and a second Brownlow – 2006 was all about Adam Goodes.
When the final siren of the 2006 Grand Final sounded, Adam Goodes fell to his hands and knees onto the MCG turf, overwhelmed with emotion.
Just 30 minutes earlier, it seemed Adam was about to carry his team an d t he hopes of an entire city on his back and lea d t he Swans to a second successive flag.
But 2006 was not going to be the Swans' year, and in that single image captured by television cameras and beamed into homes aroun d t he country, Adam epitomised the passion that Australian's feel for their sport.
For football players, learning how to ride the rollercoaster is part and parcel of what they do – accepting the good with the bad, battling though injuries and stretches on the sideline filled with self doubt and frustration, taking the glory with the gut-wrenching disappointment.
In his eight year career, Adam has experienced it all, from winning the Rising Star Award before succumbing to injury, then coming back to win the coveted Brownlow Medal only to have his game hampered by injury once more.
This year, Adam became one of only a handful of players in AFL history to win two Brownlow Medals before losing the Grand Final in the same week.
"I felt pretty comfortable all week," Adam says. "The club organise d t he media conference on Tuesday an d t hen that was it.
"That's what I normally would have done, even if I hadn't won the Brownlow, so it was a good week – as normal as it could be."
After a quiet first half, Adam rebounded strongly in the second, kicking a sensational goal early in the fourth quarter that lifted Sydney's spirits.
"I thought – this is my last half of footy for the year, I've got to give all I can give," Adam recalls.
"I chose to do that and just trie d t o run myself into the ground. I was playing on a good player in Chris Judd, so I ha d t o be wary of him at the same time. I probably was a little bit too wary of him in the first half, so I thought, 'stuff it, I'm going to try and push forward and see if I can kick some goals'."
But, as Adam told the media in a post-match press conference, the footy gods were smiling on West Coast that day.
While the heartbreaking one point loss may be a bitter pill to swallow, the fact Adam knows exactly how it feels to have stood on the winner's podium to collect a medal just a year before will provide plenty of motivation to return to the winner's circle.
"I know last year, coming back from pre-season, it was a great feeling that we were the best – we were number one," Adam says. "This year when we come back to pre-season, it'll be this burning sensation that'll make us push that little bit harder when we're training.
"It hurts, but there is a lot to be proud of."
To say Adam has plenty to be proud of after this season is quite the understatement. Of all AFL players in 2006, Adam stoo d t he tallest and proudest, and his historic second Brownlow victory is sure to ease some of the pain of the Grand Final loss.
Three years ago, Adam share d t he stage with two others as he accepte d t he Brownlow. In 2006 the spotlight was all his, and deservedly so. At 26, with plenty of football still ahead of him, it's scary to think of what Adam may yet achieve.
His coach Paul Roos believes that Adam has the potential to win a third Brownlow – a feat only four players in the history of the game have achieved.
"After he won the medal in 2003 someone asked me a similar question (as to whether Goodes could improve)," Paul says.
"I told them I have no doubt. He will have a season better than 2006."
Regardless of whether Adam does claim a third Brownlow, one thing that is assured – that he will go down as one of the greatest Indigenous players of all time.