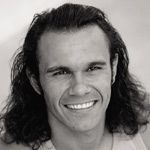 Deadly Vibe Issue 86 April 2004
Up, up and away
At the beginning of the year, Aaron Pedersen was wondering what work might be coming his way. Now he's so busy he barely has time to think.
At the beginning of the year, Aaron Pedersen was wondering what work might be coming his way. Now he's so busy he barely has time to think.
Hunky actor Aaron Pedersen is on a roll right now. He's currently on our television screens every week in The Secret Life of Us, playing a young footballer who's the love interest of Deb Mailman.
Next month, the 33-year-old jets off to New York to perform a reading of Conversations With the Dead, Richard Frankland's compelling play about his experience as an investigative officer for the Royal Commission into Aboriginal Deaths in Custody.
After that, he jets back into Sydney to star in Catriona Mackenzie's next project, a film called Grange written by Reg Cribb (Gulpilil, Last Cab to Darwin).
Sometime in the next few months, cinemas will also be screening the Jon Hewitt film Dark Love Stories, in which Aaron stars with John's wife Belinda McClory (who played Switch in The Matrix).
In the film, Aaron plays Gil and Belinda plays Gretchen – two people in love in Kings Cross who get themselves into a bit of trouble.
" The story covers nine or 10 hours in the life of the two of them," says Aaron. "It's quite a fast-paced film. Their life is pretty hard and they're in a situation they want to get out of. It's about love and the depth of love, and how far love can go.
" I'm enjoying the fact that me being Indigenous has nothing to do with the role. It is hard – casting agents sometimes can't see beyond colour.
" But with this film, there was no colour scheme involved in it – it's to do with the actors. And if it all goes to plan, I think it will do well."
The narrow casting of Indigenous actors in Australia is something Aaron feels strongly about. In fact, his own casting in the TV dramas Wildside and Water Rats as a character whose Aboriginality had nothing to do with the storyline paved the way for many of his fellow Indigenous actors.
Deb Mailman's role in Secret Life has strong parallels with Aaron's career, so it is fitting that the two are currently playing opposite each other in the drama. Aaron's role as a footballer called Corey will last for 10 weeks.
" Channel 10 has taken a big punt by putting me opposite Deb as a love interest," says Aaron. "It's great they've put two young people of Indigenous descent together and just considered them actors. It's fun – it's great working with Deb."
For Aaron, this is all a long way from his childhood in Alice Springs and his early life working as journalist. The reaction he gets when he goes back to Arrernte country in Central Australia is "fantastic – it's really positive".
" It's great to go home and see the family and old friends," he says. "They're all mightily proud and they all gee me up about stuff I've been doing. If I do anything that might shame them, like if I'm doing love scenes and stuff like that, they're like, 'Whoa, what are you doing that for, bro?' They get a bit of a stir, but at the end of the day I hope one or two people there or someone from my own family has been inspired by what I choose to do."
Aaron says that although he might be a role model to other young fellas out there dreaming of a life on stage or in films, it's not something he thinks about a lot.
" I know it comes with the territory," he says. "Sometimes it's thrust upon you and you don't quite know how to deal with it. But if somebody gets something out of it, then that means one generation that I've changed.
" I've certainly chosen a career I'm going to enjoy for the rest of my life – or I enjoy aspects of it, except the unemployment!" he says. "I don't think too many people in the world are actually doing something they love. But I've got to keep seeing through the emptiness of it and get some depth out of it."
Certainly, Aaron is now looking at extending his body of work – he says his particular interest lies in arthouse projects rather than huge commercial ventures. To that end, he'd like to travel overseas, to either the United States or Europe.
And for Aaron, it would be a dream come true if he could one day work with the veteran actor Charles 'Bud' Tingwell.
" If there's any type of career you want to have, it's one like Bud's," says Aaron. "He's chosen an incredible journey and he hasn't necessarily sold out either."
And when Aaron isn't working, he says: "I do a lot of swimming and I do a lot of thinking – that's one of my hobbies! I have a good time doing that – I actually enjoy it." And while he's in New York, he'll have to try to keep up with what's happening in the footy back home. "I'm a bit of an AFL nut. I'm a Bombers supporter – I have been for years."
(Story 1/4/2004 end.)
Deadly Vibe Issue 48 January 2001
Triple AAA-aron Rating
From Alice Springs to Sydney Harbour by way of Blackout and Bachelor Of The Year, Aaron Pedersen's life thus far has been one adventure after the other. But, he tells Deadly Vibe, the journey's only just begun.
Oh, Reilly! Alrighty! The strong arm of the law has never been so cool!
"I spent a lot of time growing up in homes, but throughout all of that I specifically had my heart set on achieving certain things in life. And now I'm doing those things, so I'm quite happy."
There can't be many people in Australia who don't know who Aaron Pedersen is. If you've watched television in the last decade, chances are you'll be familiar with those angelic eyes and killer smile. If not, then you need only turn on the television to see his Water Rats character, Detective Senior Constable Michael Reilly, chase crims across Sydney Harbour without getting his feet wet.
Chances are, though, you knew of him long before he joined Channel Nine's top-rating 'harbourside' cop drama in 1999. What about his turn as crisis centre lawyer Vince Cellini on ABC TV's Wildside? Or his performance alongside Bryan Brown and Angie Milliken in the harrowing yet acclaimed feature film Dead Heart?
That's a lot of camera work for someone who's only just turned 30. Then again, Aaron's used to being in the public eye – in fact, he's been in that peculiar beam ever since he was born. Literally. "I was actually born on an Ansett airplane about 40 minutes outside Alice Springs," chuckles Aaron, who comes from the Arrernte and Arabana nations. "Mum had failed to let the authorities know she wasn't that far off, and I was a little bit impatient to get out!"
Young Aaron, who was that airline's first in-flight birth, subsequently became known as the 'Ansett Baby'. Fast forward 24 years and he was just plain 'Baby' – Cleo magazine voted him Bachelor Of The Year in 1994. "It was an accolade and a stepping stone," he remembers. "It might seem a bit silly, but who's to say some of those Bachelors won't end up running the country?"
Or running around the country, at the very least. Aaron's jam-packed CV is testament to his motivated nature and considerable talents. Trained in news, sports and current affairs reporting, Aaron has worked in Melbourne, Adelaide and Sydney. He's acted alongside Cate Blanchett in the much-praised mini-series Heartland, filed stories for Quantum, and co-hosted youth affairs show Blackout, and musclefest Gladiators. Not bad for a lad from the Alice. "I grew up there, mostly," says Aaron. "I was a born and bred desert rat, and now I'm a Water Rat!"
Life in the Alice wasn't easy for young Aaron. Coming from a broken family, his home environment was, he says, "a bit difficult at times". At age 13 he made himself a ward of the state. "I spent a lot of time growing up in homes, but throughout all of that I specifically had my heart set on achieving certain things in life. And now I'm doing those things, so I'm quite happy."
Things like taking theatre to the Top End. Aaron and fellow Water Rat Diarmid Heidenreich travelled to Darwin last year to perform two plays by Richard Frankland – No Way To Forget and Harry's War – for the local Aboriginal community there. Directed by Glen Shea, himself an actor, both plays' casts were rounded out by local kids whom the trio auditioned. Word got around and soon the impromptu theatre company found themselves conducting workshops at a number of Darwin schools.
But his Water Rats gig is probably the most significant development in Aaron's career so far, in the main because it's turned him into one of those rare things – a household name. And how many Aboriginal people do we see on television? And commercial television at that? "I have been on mainstream television now for about five years, and that's a good thing," he says. "But it's also a bad thing, because when you weigh it up there are so few of us. There's been Ernie Dingo and now there's Deb Mailman in The Secret Life Of Us. Ultimately you have to say, 'Hang on a minute, we've got to snap out of this.'"
Aaron is reluctant to portray his character on Water Rats as overtly Aboriginal, and he tries to dissuade the writers from doing likewise. "That way you avoid falling into stereotypes. My attitude has always been to leave that aspect to me. Just write me a particularly human story that could happen to anybody, and I'll deal with it in a particular way.
"There are a lot of Aboriginal people who work in mainstream society, who go into mainstream positions that don't have anything explicitly to do with their Aboriginality. We have to keep emphasizing that we are part of the workforce. In film and television, for instance, we are camera people, technicians, radio announcers, writers and teachers. We are all those things that exist in society, rather than all of the negative things that are too often portrayed. A lot of us get up and live our lives in a totally different way to the stereotypes. We don't necessarily emphasize the fact that we are Aboriginal, or that we are proud to be Aboriginal, but the fact is we are."
Working in the notoriously fickle entertainment industry is enough to make even the most robust personality crumble. So the fact that Aaron has been a driving force for so long is surely testament to his talent, confidence and perseverance. He says that the industry requires versatility and the willingness to try one's hand at many different things. "Sometimes things work, sometimes they don't. You just have to be prepared for that. The quote I try to carry in my heart is, 'Don't be afraid to fail … and fail big.' My attitude is to take things on, and if you fail big then at least you've learned a massive lesson from it."
Failing big isn't what Aaron's doing, however. Quite the opposite. The biggest lesson he's learning at the moment would be how to put up with all his fans! And many of those fans would no doubt be highly distressed to learn that Aaron is no longer a bachelor. Having been married to comedian Lisa Serma for a little over a year now, he says he's enjoying the amazing benefits of sharing one's life with someone special. "Mind you, being a comedian she takes the mickey of me all the time!"
Aaron says his biggest hope for the future is that things keep moving forward in terms of reconciliation and healing between Indigenous and non-Indigenous Australia; that the legacies of Kumantjayi Perkins, Kumantjayi Gilbert and others are honoured and carried through to this new century. "I hope that all of their work doesn't go unnoticed. I hope that what I'm doing is a contributing factor in continuing that journey, and that I can be as strong as they were when they were around."
(story 1/1/2001 end)