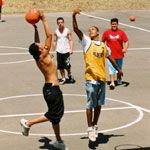 The one and only Indigenous festival of basketball, beats and breaks – the Vibe 3on3™ – was back in action in late November as the event headed down the South Coast of New South Wales South to Nowra – the latest destination in its national tour.
Situated on the beautiful Shoalhaven River, Nowra is one of the South Coast's major centres and the home of a large and vibrant Indigenous community – many of whom turned out to support the 3on3 for the festival's first trip to the town.
The inaugural Nowra 3on3 began with a welcome to country by Bertha Bloxome on behalf of the Wandi Wandian people, followed by a performance by the Doonooch Dancers. Also on hand for the ceremony was Nowra mayor Greg Watson and State Member for the South Coast Shelly Hancock.
Despite soaring temperatures, 55 teams registered over the two days as players sweated it out under the hot sun. Off the court, people of all ages from the community came along to join in the fun or just mingle with friends and family from the sidelines.
As well as 3on3 basketball activities, there was also break dancing, writing and art workshops and a health expo where community members could get checked out by Dr Adrian Lim, who volunteered his time for the event. Keeping the event bumping along to a hip hop and Indigenous groove was the 3on3's resident DJ Geoffrey Johnson, while MC and former Harlem Globetrotter Dwayne Cross was as popular as ever.
Also on hand were Indigenous role models Kyle Vander-Kuyp, footballer Dean Widders and actor Luke Carroll, who chatted and mingled with people from the Nowra community throughout the weekend.
The Nowra 3on3 also marked the return of dancer and musician Munkimuk, one of the 3on3's original breakers and rappers who has returned after a three year hiatus.
"It was great to be back on the 3on3again," Munkimuk said. "Actually, it was fantastic! The kids were great – they were enthusiastic for the whole weekend. Even with the hot weather everyone was on fire, from the crew to the staff to the kids."
Instrumental to the success of the Nowra 3on3 were Damien Matcham, Iris McLeod and Lesley Roxbee from the South Coast Aboriginal Medical Service and Margaret Street and Sharon Webster from Nowra High School.
The Vibe 3on3 was sponsored by the Office for Aboriginal and Torres Strait Islander Health through the Department of Health and Ageing, the Department of Communications, Information Technology and the Arts, the AER Foundation, Rio Tinto Aboriginal Foundation, Koori Mail, Fubu Clothing, Deadly Sounds and Deadly Vibe.
Thanks to local sponsors the South Coast Aboriginal Medical Service, Nowra High School, Nowra Youth Centre and Shoalhaven Water.
WINNERS
Boys U10
The Lads
Taren Parsons
Bradley Seymour
Brendan Parsons
Jayden Wallace
Presenter: Iris McLeod, South Coast AMS
Boys U12
DKYC
Paul Roberts
Kyle Roberts
Elwin Roberts
Zack Lagazio (Back)
Presenter: Coral Yuke, Wreck Bay Area Health
Boys U14
Yamindidgi
Raymond Timbery
Kaine Green
Josh Green
Presenter: Leslie Roxbee, South Coast AMS
Boys U16
Doolagahs
Kieran Wellington
Michael Burns
Casey Kerr
Ewan Thomas
Presenter: Councillor John Anderson
Boys U18
ANWA
Tegan Curtis
Jack Matthews
Dylan Curtis
Presenter: Margaret Street, Nowra High School
Girls U10
Goanna's
Kathryn Flood
Emma Maloney
Ebony Flood
Presenter: Adrian Lim
Girls U12
Cheetah Girls
Tarminya Brown
Shakiah Tungai
Tarleaha Brown
Camilla Gatt
Presenter: Kyle VanderKuyp
Best Team Card
Bullets
Kyle Bloxosome
Drew Luland
Beau Luland
Jardine Tryndofer
Presenters: Luke Carroll, Rachel Kontominos
Boys Breakoff
Jayden Wallace (1st)
Travis Humphries (3rd)
Elwyn Roberts (2nd)
Presenter: Monkey Mark
Girls Breakoff
Kreean Phillips (3rd)
Keera Cruise (1st)
Tazma Ardler (2nd)
Presenter: BBoy 2Ezy
Puggy Hunter
Kyle Knopp
Presenter: Claude Williams