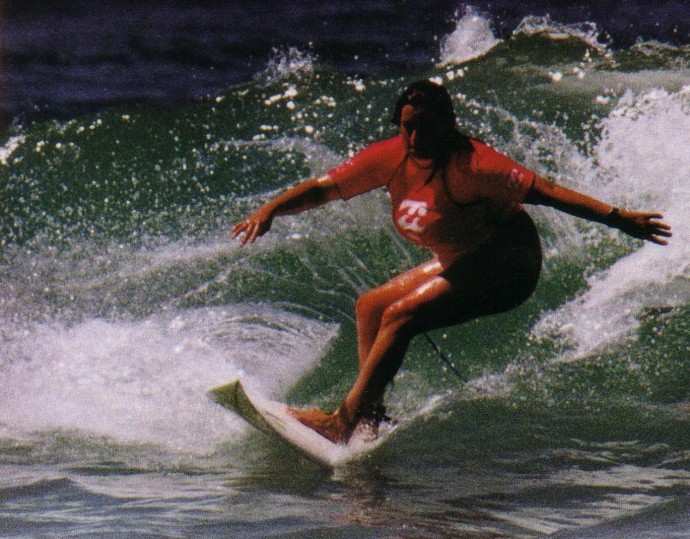 There are more than 1.5 million recreational surfers in Australia. Around 75% are guys. This difference between the sexes in the water gets even bigger when you compare men's and women's professional surfing.
The women's ACC (Australian Championship Circuit) and WQS (World Qualifying Series) circuits consist of 17 events with a total prize money equalling $1,740,932. That's almost 1000 times what the girls get!
Despite the many hurdles such Indigenous girl surfers as Scotts Head local and (any minute now) mother of three Talia Donovan, Ingrid Collard, Margie Mills and of course, Julie Anderson are rising to prominence. As three time winner of the Billabong Indigenous Invitational, Julie is one of Australia's leading female surfers, and started surfing with her dad on his Malibu at the age of 6.
Julie first came to prominence in 1989 when she came seventh in the Australian Scholastic titles. Results since then have included 14th in the 1990 Australian Scholastics, fifteenth in the 1991 Australian Open Titles and 1st in the 1993 Australian Surfboard Championships. Julie's proudest moment was when she was asked to surf for the Originals – a team of Koori surfers selected to compete against the best surfers in Australia. The Originals placed 4th out of 6 state teams.
Julie is a Byron Bay girl, and that's also her ancestral home – Watego's beach was named after her great grandfather, and Clark's after her great grandmother. She notes 'I am very fortunate to have this background – through surfing I have met a lot of people and made a lot of friends, and done quite a bit of travelling. Surfing is a sport I would recommend to anyone.'
Above: Julie Anderson in action