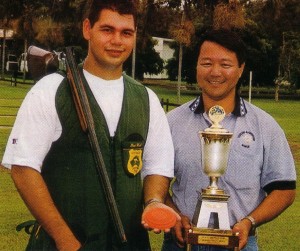 Ready
It takes more than a good eye and a steady hand to be placed 6th at a World Cup competition in clay target shooting. That is what 22 old Brett Hall has discovered during his sporting career.
Brett from Darwin was introduced to his local clay target club at the age of 14 by a family friend. He fell in love with the sport. Seven years later he is shooting with and against the current Olympic gold medallist.
The sport has taken him around the world to places like Korea, Japan, Finland, Cyprus, America, Italy and Egypt.
Brett says that to be the best at this sport like other sports you have to be physically fit and focussed.
"The Northern Territory Institute of Sport started last year and they have a strength and conditioning co-ordinator who puts me on a program and every six weeks to check my fitness levels." Brett said.
Aim
For those unfamiliar with the sport, competitors fire 12-gauge shotguns from five adjacent shooting stations. At each station, four-inch clay targets are thrown two at a time from an underground bunker at speeds up to 50 miles per hour. Competitors get one shot per target.
The sport is a little different for men and women. Men fire three rounds of 50 bullets for a total of 150 targets and the women shoot three rounds of 40 bullets for a 120- target total. A perfect match score for men is 150 targets and 135 is world-class. For women, 120 is perfect and 100 is world-class.
Finals were introduced into target shooting when it became an Olympic sport ibn 1996 where the top six competitors advance to a final of 50 targets for men and 40 for women. Medals are awarded based on total (match plus final) scores. The perfect total score is 200 for men and 160 for women.
Fire
Brett has a match score of around 140 and has recently shot 145. (the current WORLD record).
Brett was the winner in both 1995-1996 of the Junior High Gun at the Australian Nationals in American rap, the most common type of clay shooting in Australia.
Brett was also the winner of the National Junior title in two of the most difficult of the clay target disciplines, the Olympic Trap and Olympic Double Trap.
Brett was selected in 1995 on the Australian Junior Team to compete in Cyprus at the World Junior Championships. Brett was placed second after a shoot off to become the silver medallist in the Olympic Double Trap Junior World Championships.
Brett was selected in 1996 as a junior understudy to travel with the Olympic Team to two World Cups prior to Atlanta Olympics.
Brett made the Australian Open Team and the Olympic Double Trap Open Team at the end of last year.
Big Guns
Brett made it to the final of the world cup in Cairo this year, his first World Cup in Cairo this year, his first World Cup in an open division. He also teamed up with the Atlanta gold medallist, Michael Diamond from New South Wales and Adam Vella from Victoria to take out gold in the team event.
On Target
"Well they are picking a world championship team which will go to Barcelona in July. I am sitting around about sixth in Australia at the moment and if no one beats me I should get selected to a shoot in Perth where I believe they are picking the world championship team, so fingers crossed I make that team."
Deadly work Brett. Vibe wishes you every success and congratulations on all you have achieved. We're very proud of all of your achievements and look forward to following your career with the greatest interest.