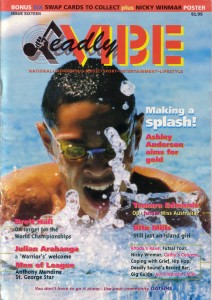 Nobody can accuse us of being predictable. That is for sure. A Rock'n roll and footy rag. Not us.
This month Deadly Vibe investigates a whole new realm of exciting horizons for young Aboriginal people. Not for one moment does Deadly Vibe think that there is anything at all wrong with thrashing guitars or footy fields. But you know. Diversity!
Into the pool we dive with a young lad everyone is talking about (or soon will be after this national exposure). He is Ashley Anderson and he is carving up the pool, nationally and internationally.
Gold, gold, gold. He is already enjoying it in abundance and seems to have a pretty cool head as well. The only problem for the young fella is working out which strokes he is best at. It seems he wins gold in everything!
Speaking of gold, Brett Hall from Darwin doesn't play football either. But he might just be another Australian world champion in the offing. This time in target shooting, a sport which Australians are very well known for internationally and becoming more so, especially since our last Olympic success with Micheal Diamond. Here's hoping Brett doesn't bag his hometown Darwin. A Great place. I'm sure he won't.
Brett was in the gold medal winning team at a recent world cup at Cairo. He is rumoured to have equalled the world record in his practice session. Don't crack under the pressure Brett!
This month on the music front we visist Aunty Rita Mills who after all these years and all national and international successes is stil an Island girl and always will be. When you talk to this grand woman of Indigenous music, you know you are talking to someone very, very special.
Deadly Vibe makes an entrée into the world of film this month and talks to Once Were Warrior's star Julian Arahanga. It is a bit of a break with tradition, talking to a Maori man in our magazine, but the Warriors experience on screen was so appropriate to us here that we thought he had earned his place.
And what with him rubbing shoulders with Keanu Reeves, well who could resist. Welcome to our land Julian, and we at Deadly Vibe hope Australia is good to you.
We continue our Black Men of League series. And wow, our Deadly Vibe photographer Amanda James really deserves a standing ovation for the quality of her artwork in this series. Choc Mundine stands proud this month and why shouldn't he. He looks fantastic.
Our Deadly Vibe columnists are growing by the month (in numbers that it). Rhoda Roberts and Nicky Winmar join us this month talking the arts and AFL football. We seem to have our bases pretty well covered. Of course Cathy Freeman has been with us all year and her words of wisdom continue to enlighten.
We continue with our Hip Hop column (Gang Starr), our Record Bar (loads of great albums) and we continue to look at very important health and lifestyle issues.
Happy reading and see you next month,
Gavin Jones
Dear Editor,
My name is Nicole Black. I work as a youth worker at the Parks Youth Service. This service is situated in a suburb of Adelaide, called Angle Park. The cultural breakdown of our clientele, I'm pleased to say is many and varied. The majority coming from Anglo, Aboriginal and Asian descents.
I saw your magazine for the first time Sunday. I liked it so much I rang you on the following Monday, seeking knowledge about the magazine and how I could place my grubby hands on some copies. I was motivated for a number of reasons.
Initially I felt Deadly Vibes would be a wonderful asset to our Aboriginal clients, as the magazine itself is a superb portrayal of the Aboriginal culture and it's people. The magazine is full of positive role models, something, unfortunately our young people don't see a lot of. In particular, seeing Aboriginal people that aren't the stereo typical "footy" star. Not only does it project a positive image to the reader it gives insight and understanding of different cultural aspects of both, the Aboriginal and Torres Strait Islander Cultures.
Nicole Black – Youth Worker – Parks Youth Services
Dear Nicole,
Thank you for your letter about Deadly Vibe. Yes, we do show a huge range of talent in Indigenous youth culture. And there is still heaps more to come. We are literally bombarded with fantastic stories of young Aboriginal and Torres Strait Islander people doing great things; exploring culture, achieving great success in sport as well as just being themselves.
Unfortunately other media only like to portray our young people in a bad light. We give balance, if anything is happening around Adelaide we should know about, let us know.
Thank you for reading Deadly Vibe and thank you for taking the time to write to us.
Gavin Jones