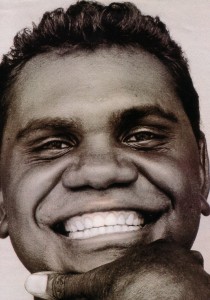 Djakapurra Munyarryun was born in Yirrkala, north-eastern Arnhem Land.
His life has been steeped in traditional dance and ceremony. As a teenager Djakapurra travelled Australia with elders from Yirrkala, teaching and conducting traditional dance and music workshops.
He has an ongoing, close relationship with his community in Yirrkala, in particular the Munyarryan family who allows Bangarra to be inspired by and use their songs. Djakapurra is not only a dancer with the Bangarra Dance Company but he is also their cultural consultant. Bangarra is very respectful of their relationship with Djakapurra and his family as they are with entire family of Bangarra.
Djakapurra joined Bangarra Dance Theatre in 1991 as a traditional dancer and a didgeridoo player. A dynamic traditional dancer, Djakapurra shows great interest in the cross over of traditional and contemporary music and dance styles being created by Bangarra.
He has major creative and cultural influence on Bangarra in his role as cultural consultant and is instrumental in the company's ability to fuse traditional myths and music with the experience of urban Aboriginal and Islander people.
Djakapurra danced lead roles in Praying Mantis Dreaming and Ninni. In Ochres Djakapurra recreated his own style of dance with great articulation.
He has toured with Ochres throughout 1995-96 to Europe, Asia and all over Australia. He also performs both in Fish and on it's soundtrack, singing and playing bilma and yirrdaki (clapsticks and didgeridoo).
Djakapurra has also performed in Rites, collaboration between Bangarra and The Australian Ballet. His major film work includes Black River which won the Grand Prix award in Paris for best feature film in 1993, playing the role of the water spirit and Breaking Through, – an Imax 3D film produced for Expo '93.
Anyone who has ever been privileged enough to see Djakapurra on stage will understand the power that this man has with audiences. From the moment he walks on stage, Djakapurra commands the respect and individual attention of all who watch.