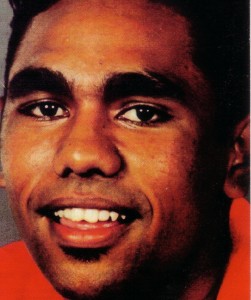 Eighteen year old Fred Campbell has just been recruited by the Sydney Swans. His first game for the season will be on March 29 and with an estimated crowd of 45,000 Fred will be a little nervous.
It will have mixed emotions, nervousness and excitement. Fred moved to Sydney from Alice in November 1997. It will be a dream come true for Fred, running onto the Sydney Football Stadium to play his first AFL match.
Fred joins Adam Goods as the youngest fellas in the Swans, and both are Aboriginal. That says something about Indigenous talent. Fred and Adam are in that line up with Micheal O'Loughlin, Troy Cook and Robbie Ahmat. Aboriginal artistry!
Fed's football form has been described as magical. That magic caught the eye of recruiting managers at the Teal Cup under 18 championships in Melbourne, and are also in Alice Springs in an under 25's match.
"They would have seen I had the ability to play in the AFL," Fred said.
"They sent me to an AFL camp at Waverly in Melbourne where all recruiting officers go to watch us train, get to know us and see what sought of attitude we have," he added.
It was at that camp when Ricky Barnes, the recruiting officer for Sydney became really interested in Fred's talent and ability.
The rest is history. Fred has now signed a contract with the Swans for two years.
"I always wanted to play AFL," Fred says.
"I watched the game a lot when I was young and played it a lot. I watched my older brother play in the local competitions and I watched my cousins play. I wanted to play AFL real bad. " he adds.
Fred encourages all young kids to have a dream to follow it.
"If you have got a dream, just go out and get it."
"Just take it step by step, set yourself short term goals and then when you get older you can set yourself long term goals," he adds.
"My short term goal was just to play any sport like football, and then I set goals for what I wanted to achieve in one game."
"My long term goal was to make AFL, I made AFL but I took it step by step."
"Just keep setting goals and enjoy yourself."
Fred trains every day, an early morning weights session followed by a skills session in the afternoon.
The story of Fred Campbell is a fantastic one an all of us here at Deadly Vibe are already big fans.
Go Fred!!!