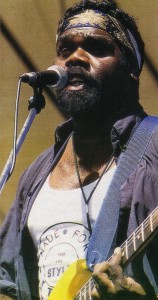 Congratulations goes out from Deadly Vibe to everyone involved in Survival, an annual celebration of Aboriginal survival and music over the past 210 years. This year Deadly Vibe was there to catch all the fun and excitement of a day which is quickly establishing in the must do list of many Sydneysiders and many people from all over NSW and Australia. Deadly Vibe catches up with Walbria Watts, of the National Indigenous Arts Advocacy Association.
Deadly Vibe: What an outstanding success this year has been. Has it passed your expectations Walbria?
Walbria: Yes! Absolutely. For a start, the smiling faces out there and the bands have just given their whole heart, they have just played fantastically. We have really got the crowd through the gate. All together we have had a very successful day.
Deadly Vibe: Was there a bit of a change in focus this year? I have noticed a much stronger focus on young, up coming bands this year rather than seeing the established acts of past years?
Walbria: Definitely. I think some of the best music in this country is coming out of these young ones. I am not saying the older more established bands have become stale or anything. I just like the young ones. I think that is particularly true for bands like NoKTuRNL from Alice Springs and Tribal Link from Woorabinda and Wild Water from Darwin. A lot of us fellas from down this side of the country don't get to see these bands very often and I think what better day to do it on than on Survival.
Deadly Vibe: What are some of the highlights of Survival for you this year Walbria?
Walbria: This sounds horrible, because you know they are all fantastic talents. I have a real soft spot for NoKTuRNL and for Tribal Link. I think that more than a lot of other bands I see these guys have a potential to cross over into mainstream.
All the bands do, but I think those two groups in particular. I have a soft spot because they are just really cruisey guys to work with. They're very easy to work with and they have a real commitment to the music and the whole industry. I find that really refreshing.
But the biggest highlight is seeing all those smiling faces out there. That's incredible. Seeing fellas here with wheelchairs, a lot of people with disabilities have made the effort and come today. We had community buses coming down from Jervis Bay, old fellas, young fellas, white fellas and Asian fellas. To see that kind of mix of people coming together to celebrate survival, that is my highlight!
Deadly Vibe: It is through events like Survival that true reconciliation and the meaning of reconciliation can be achieved. Aboriginal people getting up there on stage in front of Aboriginal people with a message of reconciliation and justice, with a message of Aboriginal survival. And everybody listening, that gets this country on a path to reconciliation.
Walbria: Absoulutely! And that is one of the other things I love about Indigenous music and the power in indigenous music. If you get people up there saying those songs in speech form people don't listen as much. But it's like you put a beat behind it and a groovy beat to boot, people actually begin hearing it real clear and listening to every word. They feel it and it touches them somewhere and I think that's the power of indigenous music.
The other thing is people are saying it's very contemporary this concert. I actually find it really traditional in lots of ways as well. Before the invasion, if there was a big catastrophe, a big hunt or whatever we made songs and dances up about that. We are still doing it. Those kids are up there performing contemporary music beats. I find this story telling and commemorating history a swell a s a reflection on history even though it's contemporary history I still that in a sense the same as traditional music.
Deadly Vibe: Do you think that mainstream community, when they hear the term Aboriginal music, still expect clapsticks, didgeridoo and traditional language? Or do you think we are training them to listen to thrashing back beats, guitars and other stuff in there as well?
Walbria: Definitely! I think this program here today we have had everything from the old Koori crooner himself, Vic Simms to grunge from NoKTuRNL and reggae from Wild Water and everything in that spectrum in between. I think that's one of the best things that this program shows, you cannot just classify indigenous music has been a Yothu Yindi sound or an Archie Roach sound. But these guys have showed that Indigenous music is everything we want it to be. In a way it's reclaiming for our own because we wrap indigenous accents and wrap about indigenous issues. That makes it our music now if it reggae if it's crooning if it's grunge rock, because it's indigenous music and indigenous accents about indigenous issues.
Deadly Vibe: We can do it all! Last question; was the change of venue from La Perouse to Bondi a great success?
Walbria: I think so! A lot of people have commented on the fact that there are trees here and shade. It's just been really nice and it's been a lot easier for people to get to. We had a lot of walk by patrons today that have just seen it happening and have come in. But out at La Pa the only people who went to La Pa were the ones who were definitely coming already to the concert. I think La Perouse is very important and Survival perhaps will go back there. But to bring it out into the wide world too I think is kind of an invasion in reverse.
Deadly Vibe: It's part of the evolution of Survival, we are coming right out and we are here to be seen. It's very visual and it's a great success.
Well, on behalf of Deadly Vibe congratulations Walbria Watts on a fantastic day, a fantastic Survival '98.