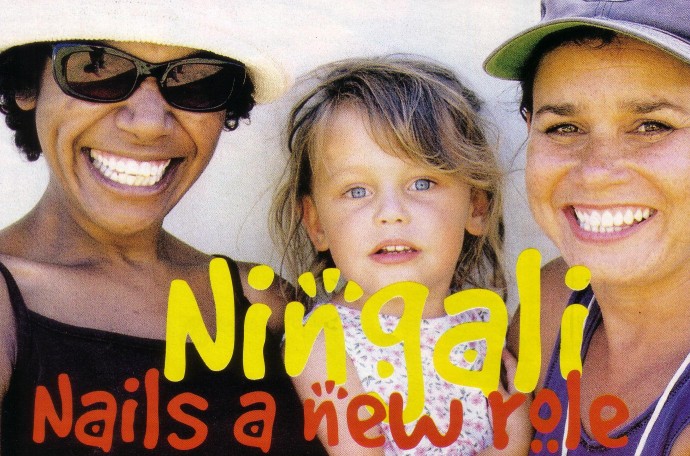 Deadly Vibe recently caught up with Ningali Josie Lawford, who was down from the Kimberley's visiting with us here on the east coast. We first came across Nigali in Bran Nu Dae many years ago, and of course many of you might have seen her solo show Ningali.
She has been a pretty busy girl over the last few months and this is just the start of what will be an even busier 1998!
A lot of things are on the cards. Ningali is hoping to do two more plays by the middle of the year as well as a film.
"Hopefully I will be doing Drovers Boy with Ted Egan," Ningali explains.
For those of you who are not familiar with Drover Boy it was originally a song penned by Ted Egan. A story about the history of young Aboriginal women being taken away from their homelands, dressed up as young boys to drive cattle across the outback.
To be involved with this particular film has a very personal element to it for Ningali, who's grandma was a Drover's boy. So it is sure to evoke some real emotions for her to draw on for her character.
"The Drovers boys did shape Australia's pastoral industry. It is a fantastic project and I am really proud to be part of it," Ningali adds.
Ningali is also going to be joining the Up The Road crew hopefully to do a play called Stolen from Playbox.
Some say that actors are only as good as third last job and Ningali has been a very much sort after performer and motivational speaker for many years. Her latest project was up at Taree where she was involved with a big motivational camp with Taree kids.
"That was really deadly, I had a great time. They are really strong community", she explains.
Ningali get a lot of personal satisfaction from this kind of work. "It is great going out there… talking to the young people and trying to encourage them to do acting and stuff."
On generating her own work, she is currently in the process of writing a play with fellow Western Australian actor, Kelton Pal.
"We are looking forward to doing that together, Aboriginal related stuff, with a lot of people."
Ningali spends a lot of time here on the East coast for work. It seems there are a lot more opportunities than there is in Western Australia.
"Well I suppose the East coast has a much bigger scene in theatre, being seen by a lot of non-Aboriginal people as well… I have a lot of contacts here although I'll still do plays coming from Western Australia. So all you Western Australian writers, If you got a play that you want Ningali in, I'll be glad to do it!"
If you want to send her the plays to look at, we suggest you get them to her very soon of your only hope will be sending them in a bottle to some isolated Island off Fiji. Good Luck!
And from the entire mob here at Deadly Vibe, best of luck with all your endeavours for 1998!