This year saw the third annual Deadly Sounds Aboriginal and Torres Strait Islander Music Awards and what a fantastic recognition ceremony it was.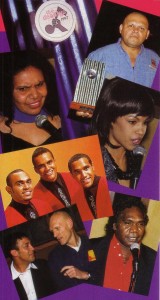 The readers of Deadly Vibe and the listeners of Deadly Sounds overwhelmingly supported the event with hundreds of voting forms received in each of the award categories.
Our own music awards are a very special thing. There are so many musicians in our communities and this is one major way of recognising the immense diversity of talent.
And there should definitely be an award for those artists who did not receive awards because everyone who was nominated is just so talented and able to achieve such greatness in the future.
This year the following artist picked up the following awards.
Most popular New talent – Aim 4 more
Male Artist of the Year – Archie Roach
Female Artist of the Year – Maroochy Barambah
Excellence in Film or Theatre score – FISH, David Page
Single of the Year – Ignornace is Bliss – TIDDAS
Album of the Year – True Believer – Troy Cassar Dayley
Outstanding Commitment to Aboriginal music – Jimmy Little
Community Broadcaster of the Year – Tiga Bayles
Keep an eye out in Deadly Vibe for the 1998 Deadly Sounds Awards and keep supporting Aboriginal music by voting in the awards.