Name: Emma Donovan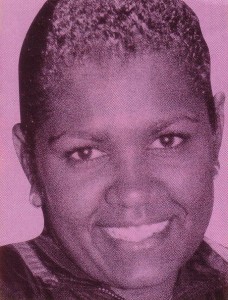 Where are you from? Nambucca
What is your band called? Solo Artist
Position in Band? Singer
How old are you? 16
How did you get into music? My mother was a singer and her parents too.
What is the worst outfit you have ever worn? The ones that my mother made me.
If you could travel anywhere in the world where would you go? See all of Australia
What would you be doing if you weren't a musician? Probably an Actress.
What are your favourite colours? I like all colours but I really hate pink.
Which part of your body would you most like to change? Wouldn't change for anybody.
Do you have a pet? No
Do you have a partner? No
What's your favourite ice cream? Chocolate & Boysenberry
What's the best meal you can cook? Fruit Salad
What's your favourite movie? Sister Act
What is your worst habit? Butting in all the time
What has been your greatest achievement? Awards in Tamworth and singing at the Entertainment Centre for the indigenous concert
Where do you get your hair cut? My Aunty
When you were a kid, what did you want to be when you grew up? A Singer
If you could have one wish, what would it be? That all people be treated equally and there would be never be poor people
Do you have a nickname? What is it? Count because my father's last name is Councillor
How would your best friend describe you? Friendly, loud and caring
Have you ever been in love? Yes but only puppy love
Which element do you identify with most? Fire, water, earth or air? Earth