There's another bright young thing on the Aboriginal music scene.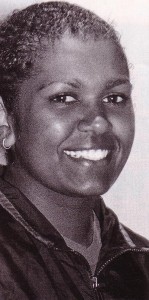 Her name is Emma Donovan and even though she's just 16 years old, she's been on the same bills as musicians such as Ruby Hunter, Yothu Yindi and the Warumpi Band.
Emma was born in Liverpool; her mum's people are Gumbainggir from Nambucca and her dad's a Nungah from Western Australia. Like most Aboriginal kids, she was brought up on a solid diet of Country music. Her first performance was at aunt's wedding, where she sang 'Stand by Your Man' (a considerably more appropriate choice than the other Tammy standard, D.I.V.O.R.C.E.)
Emma's now at Sydney's Eora College, where she's sharpening her musical skills, learning to write songs and to play guitar and drums.
"My goal is to make an album of my own and to dedicate it to my grandparents. I'd like to get out there and do it for my people, to show that Kooris can do a lot of good things."
How did you get into singing?
"Well it started off with my mother, she was a singer and her parents were singers too. It's always been in the family, getting the guitars out. At about the age of five or six, I started singing. It's something a lot of Koori fellas can relate to, just sitting around and singing".
What sort of music do you sing?
"Well, I started on the country stuff, and I'll always love it. But I also like doing the funky stuff. I love Christine Anu's music, Brandy and TLC, a lot of R'n'B and pop. But when I go back home, it's always, 'sing me that old Loretta Lyn song'."
What instruments do you play?
"At Eora, I'm learning the guitar, but really I'd like to play all instruments. If I ever make a CD, I'd like to do all of it, like Babyface does. It's unreal, that on his albums, he's playing everything".
What's coming up?
"I'm going to be singing the national anthem at the opening of the TAFE awards night. And, with my class from Eora, we've got an acappella group and a band that does jazzy and funky stuff."
"I'm going to be playing at the Festival of the Dreaming. And it's going to be amazing, being able to perform with people like Christine Anu, Archie Roach and Aim 4 More. That's Deadly."