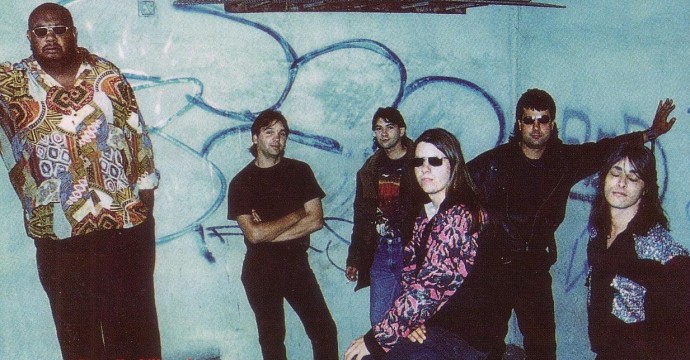 Get set for a hot summer, BLACKFIRE, The Melbourne-based band have recorded a new album which is due for release in the New Year. The guitar-based bands distinctive music will no doubt be on the turntables of many appreciative listeners around Australia and probably in Asia too given the warm reception for the band on their recent tour of China, Japan and Taiwan.
The album tentatively entitled Night Vision after a song of the same name, was two years in the making and has been produced by Paul Hester, ex-Crowded House. It was recorded at the Lodge, Hester's studio and features some unusual instruments including a plastic bucket and an old suitcase! And the news is that ex-Christine Anu guitarist Leroy Cummins now joins Selwyn Burns, Brad Brown, Kelli McGuiness, Kutcha Edwrads and Grant Hansen making the band a six piece. Deadly Vibe recently caught up with Grant Hansen to find out more about Blackfire's recent tour of Asia and their forthcoming album.
How does the album sound?
We've been together for six years now and we've obviously progressed musically in that time. Having played together for all that time we're a lot tighter, so for this album we've come up with some different sounds and different range of music. I'd say that it's much more universal than the first album. The first one was about being Kooris living in the city. It was a full-on rock album. This one's much more about hope for the future. The style of songs is a bit different – they're not as quick paced and rocked up, it's more mellow.
By all accounts the tour of Asia was a great success, how did that come about?
Songlines received some funding to arrange the tour and a committee selected the artists. It was to establish overseas networks so that other bands can go back and do similar things. The bands were chosen by committee – it ended up being Blackfire, Archie Roch and the Naroo Dancers. We spend a week in Japan a week in China and a week in Taiwan and ended up doing 60 performances! We went down really well, in fact it was quite overwhelming the response we got. Even though they didn't speak any English and they're quite reserved the Chinese people were up and dancing, calling us back out for encores. It just goes to show if you've got music that's got substance in it people can relate to it. And Asians seem to have an affinity with Aboriginal people because of the family networks, the kinship and respect system.
In his role working for Songlines Aboriginal Music Corporation Grant is exposed to a lot of new bands. So does he think it's any different for Aboriginal people working the music industry. The mainstream record industry is a difficult one whether you're white or black. It's often about being in the right place at the right time. Music is obviously an important part of our culture – it's a way of expressing and telling stories and educating people. We're naturally orientated, we're dancers and musicians and there's great indigenous performers popping up all around the country like Urshula Yovich and Leah Purcell and Tribal Link from Queensland and Leroy Cummins. There are a lot of talented musicians out there.
So what about advice for budding musicians?
Believe in what you're doing, stick at it and don't give up. I'd encourage young people to take up any opportunities that come their way – any training course, whether it's in studio engineering or management – it really empowers you.