One of our leading artists has been recognised for world class achievement by being granted the honour of our most prestigious award.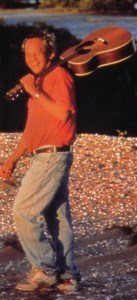 The Australia council announced the recipient of the annual Red Ochre Award for 1997. Jimmy Chi, the creator of the acclaimed musicals Bran Nue Dae and Corrugation Road is the Red Ochre man for 1997.
Mr Chi a playwright and songwriter from Broome, WA received the award at a special ceremony in his home town which was attended by the Chair of the Australia Council Dr Margaret Seares and the Chair of the Council's Aboriginal and Torres Strait Islander Arts board Mr John Moriarty.
The Red Ochre Award is presented by the Council's Aboriginal and Torres Strait Islander Arts Board in recognition of the outstanding contribution by an artist or group to Indigenous art and culture in the wider community at both national and international levels.
It is the most prestigious national award for an Aboriginal and Torres Strait Islander artist.
Chair of the Aboriginal and Torres Strait Islander Arts board, John Moriarty said "It is wonderful to see Jimmy Chi receive the 1997 Red Ochre Award. We are witness to an extraordinary talent, a man who through his words and music encourages us to sing, dance and celebrate life – even in our darkest moments. He is certainly an inspiration to us all".
"His musicals have inspired challenged and delighted audiences all over Australia and played a significant role in the development and direction of contemporary Indigenous performance. Mr Chi's Achievements are all the more remarkable as he has suffered from ill health for many years".
Bran Nue Dae, a celebration of family, forgiveness and reconciliation was a hit at the Festival of Perth in 1990 and went to make an extensive theatrical tour of Australia.
Corrugation Road premiered at the 1996 Melbourne International Festival where it won The Age Critics Award. It was highlight for 300 local and international delegates attending the Council's Australia Performing Arts Market and is scheduled to tour nationally next year. Loosley based on his own experiences, Corrugation Road looked at mental health, abuse , sexuality and religion with humour, optimism and brilliant musical score ranging from hot gospel to reggae to blues.
"Mr Chi has made a distinguished and highly regarded contribution to Australian music and theatre and this important award will allow him time to create new works".
Everybody everybody say, Congratulations Jim Chi.