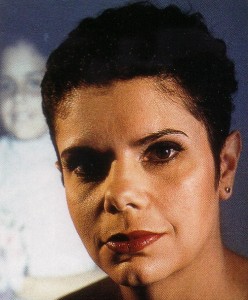 A specially commissioned series featuring seven Indigenous women from Australia, New Zealand and North America seems likely to be one of the highlights of The Festival of the Dreaming. Over the course of three weeks, as part of "wimmin's Business" each woman will tell their extraordinary stories in a season of powerful solo plays on stage at the Sydney Opera House Playhouse.
Amongst them is Deborah Cheetham, who appears in her own, self-devised show, specifically commissioned for the Olympic Arts Festival, White Baptist ABBA Fan.
Deborah's story is a fascinating one that deals with issues of identity, fulfilment and belonging.
Adopted by a white family when she was just a few weeks old, she grew up in a devoutly religious environment, with the church at the epicentre of her social life. With her grandfather as deacon at the church, it was not just a matter of once a week church visit – there were also regular youth camps and girls brigade meetings.
Her musical talent was unearthed at an early age and by the time she reached 18 years, she was musical director at her church. She went on to study at the Conservatorium of Music, where a particularly sadistic singing teacher behaved so abusively towards her that she gave up singing. Luckily for the rest of us, Deborah later rediscovered her talent and ultimately won a scholarship to study in New York with some world renowned singing coaches (including a language coach who had been teaching Placido Domingo the very same day he taught Deborah!
At Deadly Vibe, we have a prayer room where we devote ourselves to the worship of the Swedish songsters, Agnetha, Bjorn, Benny and Ana Freda (ABBA, geddit?) so we just had to find out more about Deborah and her show, White Baptist ABBA Fan . . .
The winner takes it all
The likes of today's pop stars, Spice Girls and Hanson, pale by comparison with ABBA. They were mega stars in the seventies. After they won a daggy competition called the Eurovision Song Contest with their song 'Waterloo', the world could not get enough of their knee length white boots, frilly shirts and catchy tunes. Deborah Cheetham was one of many millions who were hooked!
"I grew up in the seventies and went to high school in 1978. ABBA were just the thing. Everyone was into them. I threatened to run away from home because my parents wouldn't let me go to the concert in Sydney. I set off, but I didn't run very far because it was being televised live and I didn't want to miss any of the show."
Mamma Mia
When Deborah was reunited with her Aboriginal mother, she found out that her mother was an even bigger ABBA fan than herself. As well as reinforcing her love of the Scandinavian Fab Four, it was also the start of a rediscovery of her love of singing. Having given away the warbling for four years, after her horrific experiences at the Conservatorium, on their very first meeting, Deborah, her mother and her aunt sang together.
"It's something that I deal with in the play. I went over to her place and she and my aunt got out guitars and we all sang this three part harmony. I realised that the singing went a lot deeper and that I had to get over what happened to me at the Con."
Does your mother know?
Another key element of White Baptist ABBA Fan is Deborah"s identity as a lesbian. She was about 16 years old when she realised she was gay. She kept her sexuality secret for years.
"I'd never heard a sermon preaching against lesbians, so I thought that if I could just keep it out of my church life, it wouldn't matter and that I could keep it separate. And I did, until one day one of my friends from church who I was visiting on holiday found me in a compromising position."
Word soon spread through the church and they tried to 'cure' Deborah of her 'condition'.
"They made an attempt to deal with it. They thought they could persuade me to change, they told me that I was an abomination in the eyes of the Lord. I can't underestimate the effect it had on me. It was an enormous blow."
Thank you for the music
You could probably count all the Aboriginal opera singers on one hand (actually on a couple of fingers). So it is interesting to hear how Deborah came to choose this style of music.
"I fell in love with opera at high school when I was taken to see it by my teachers. It's probably the most significant event in my life, even now I can relive it. When you're the only Aboriginal in a school, you're always getting the same questions. "Where do you come from? Do you know anything about your family? What about your father?" and at some stage I invented that my dad was Italian, though I found out he's actually Irish. Anyway, having the love of opera and this supposedly Italian father, it made sense of my love of opera. Actually, I'm the black sheep of the family, because the rest of them have country music as their first love."
Take a chance on me
Deborah is currently Director of Music at Macdonald College, a school for students who have an interest in performing arts. But she's soon to give up the security of teaching in order to devote herself to her own artistic endeavours.
"I've got a whole load of plans. I'd like to tour the show and then there's lots of things I've been working through a lot of issues since I left the Conservatorium. I've still got a bit of a backlog there, but I am getting over it."
Supertrouper
And, just as we always do, we asked Deborah for some advice for young people.
"Just don't settle for anything. Don't settle for any apology, don't accept the crap you hear in the media, don't put up with a lousy teacher at school. Don't compromise. I don't think that Indigenous youth do settle; in fact I think there's actually even more of a threat of them going under because things are harder for them. I've had two Aboriginal brothers that have died of heroin overdose; they fell victim to that because the fight is so great, you have to persist."