September 1997 sees the first major event of the Sydney 2000 Olympic Games for Australia, an Australian arts festival.
To their credit, the people running the Sydney 2000 Olympic Games have started off very much on the right foot. They have decided to start at the beginning and show respect to us, the original Australians. And most importantly not in a tokenistic way. The Festival of the Dreaming is a month long celebration of Aboriginal and Torres Strait Islander art and culture. No it's not a stereotyped tourist show, but a real, true and contemporary representation of all that makes up our culture in 1997.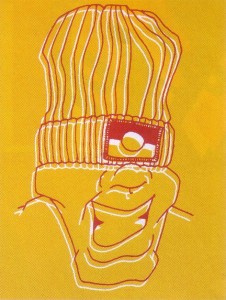 All possible arts mediums are covered (and some more as well). The visual arts, film, theatre, music, dance, literature, multi-media and much more. It's something that has never been seen in this country before. And I think it will be a long time before we see something of this magnitude again.
Not only Aboriginal and Torres Strait Islander people but indigenous cultures from all over the world will be showcased. The bulk of activity will be hosted in the Olympic city, Sydney, but many of the elements will tour nationally. Deadly Vibe will keep you posted on what's going where as we find out.
Thank goodness, the person that the Olympic Games chose to head up this huge task is someone with integrity, vision not to mention ability and sheer talent. Our very own Deadly Sounds hostess with the mostess the very beautiful Rhoda Roberts. Congratulations on achieving your vision.
This month we particularly look at the music elements of the Festival of the Dreaming and some theatre elements as well. We look at what's happening in the Baramada Rock Concert as well as interview the wild and somewhat Wacky Deborah Cheetham.
In sports we look at our own golden girl Cathy Freeman who is a record breaking star, and major hope for the Olympics in Sydney. We tribute her for her gold medal performance at the world championships in Athens.
We showcase Cathy alongside another champion, Nicky Winmar, who recently achieved the monumental achievement of playing 200 first grade games in the Australian Football League. If AFL were an Olympic sport, he would definitely be a world record holder.
We also talk to Owen Craigie who is tackling racism in the Australian Rugby League.
Please readers don't forget to vote in the Third Annual Deadly Sounds Aboriginal and Torres Strait Islander Music Awards
Happy Reading, Gavin
 Letters to the Ed
Dear Gavin
Thank you for the copies of Deadly Vibe and Deadly Sounds.
We've only just finished our Aboriginal Studies. We looked at positive role models and Nicky Winmar is up there with the best. The best part was using songs to learn about issues facing Aboriginal people (e.g.Kev Carmody, Tiddas, Archie Roach, Ruby Hunter, Yothu Yindi, Christine Anu, Leah Purcell, NoKTuRNaL and we are great fans of Aim 4 More). We were really affected by the poems of Oodgeroo Noonuccal and the paintings of Gordon Bennett.
We are all for Reconciliation!
In NAIDOC week we wrote a song and performed it in front of the whole school. It was acapella (style borrowed from Tiddas) and we have enclosed a copy. In honour of the Aboriginal flag our class was split into three groups and dressed in red, yellow and black. We even managed to use clapsticks. It was a great success. Don't forget to keep sending us Deadly Vibe.
From the kids in 7W and Wendy Jones our teacher
NAIDOC Week Rap
7W Maryborough West State School 1997
Aborigines been treated wrong
Been like this for so very long.
We invaded their domain
We partied they suffered pain.
Chorus
In the past denied a solution
Now making resolution.
Took their kids and didn't ask
Finding families a big task.
Most suffer racial abuse
Racism's got no use.
Chorus
In the past denied a solution
Now making resolution.
Aborigines, lots of pride
Show their skin, not afraid to hide.
Sports stars do us proud
Fly their flag and face the crowd.
Chorus
In the past denied a solution
Now making resolution.
Cathy Freeman black and proud
Not afraid to face the crowd.
Nicky Winmar also black
Lifts his jersey, takes no slack.
Chorus
In the past denied a solution
Now making resolution.
Gurindgi, Mabo and Wik,
Land rights will stick.
Land rights a matter of state
Decisions cause a lot of hate.
Chorus
In the past denied a solution
Now making resolution.
Murri/Koori kids in bed
Awful thoughts in their head.
Been treated bad in the past
Getting recognised at last?
Chorus
In the past denied a solution
Now making resolution.
Dear Maryborough West Sate School – 7W
Wow what a great song! It's great to see young people looking at the world with open eyes and minds. And especially looking and understanding issues facing Aboriginal people. Congratulations. We would really love a copy of your song on tape for deadly sounds so people right across Australia can listen up. Keep reading Deadly Vibe. And I hope to hear from you mob again soon.
Gavin Jones