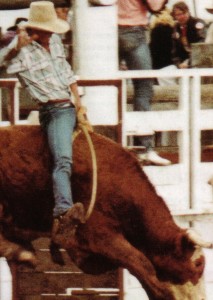 Truckloads of the fittest bulls and broncos arrived at Eidsvold, South West of Bundaberg on July 15, 2007,  for the NAIDOC Eidsvold Rodeo.
Cowboy fever hit the town and three hundred competitors and spectators gathered at the showgrounds to join in the fun and compete for more than $3000 in prize money.
The main event was the Open Bull Ride. Twenty nine competitors attempted to remain seated for eight seconds on a bucking bull. The bull weighed more than a ton and was as quick as he was big.
Victor Beezley from Bundaberg claimed that bull riding victory and earned himself $1,000 prize money for his trouble.
Two judges allocated scores; half on the contestants performance and half on the animal's efforts.
Ten young enthusiasts competed in either the Poddy Ride or Junior Steer Ride. Courageous local boy Timmy Chapman and Barry McIntyre from Gympie conquered the Junior Steer Ride while Jason Bligh was the Poddy Ride Champion.
The Rodeo's classic event is the saddle Bronc Ride. For those of us not on the rodeo circuit, the rules go like this. Each rider must begin with their feet over the bronc's shoulders and, once the gates open, must stay on the bronc for eight seconds. During these eight long seconds the rider must not drop the rein, slip either foot out of a stirrup, or make contact with the animal, himself or his equipment with his free hand.
Thirteen competitors lined up for the Saddle Bronc Ride. It took Kenny Reed from Toowoomba to show them how to ride a bronc and earn $1,000 for his labour.
Darcey Ward from Mirinvale was the victor of the Open Bullock Ride that attracted an eager twenty five. And when it all got a bit much around the bull ring, the side show rides and stalls offered less dangerous entertainment.
This was the first rodeo held in Eidsvold and according to the organisers Dean Bayles and Victor Ragg, it is one that will stay on the circuit for next year.