He's a Bronco, but this is not a rodeo story. We are talking about the awesome Brisbane Broncos star, Wendell Sailor. Wendell has joined the ranks of the highest profile and best paid players in Rugby League.
Date of Birth: 16th July 1974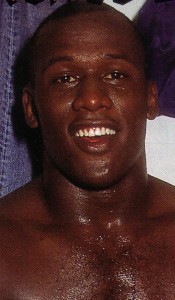 Favourite Clothes: Jeans and Shirts
Favourite Colour: Purple
Favourite Cologne: Old Spice
Favourite Food: Pasta
Ideal Holiday: Hawaii
Favourite Car: Subaru V6
Ideal Woman: Demi Moore
Worst Habit: Drinking too much Coke before and after a game.
Wendell is a Natural
Wendell has a natural athletic talent and represented North Queensland in rugby league, cricket, touch football and cross country running. Wendell began to play school boy rugby for St Patrick's in Sarina, Queensland, in 1993. Since then he has been going from strength to strength with each passing year.
Wendell made the Brisbane Broncos Reserve Grade the same year (1993) and was recognised as the Most Improved. He came on from the bench as a replacement in the 1993 Grand Final against Canberra and took out Rookie of the Year.
Wendell continued to make the most sought after teams including this years selection in the Queensland Tri-Series Super League 9's Team. Wendell returns to Australia from the United Kingdom on 7 August where he has been competing in the Super League World Cup Challenge. How will he surprise us in 1998?
Wendell Plays Hard To Get
What can we expect to see of Wendell in 1998 and the new millennium. Lots we hope! Wendell comes off contract at the end of next season and the Broncos are negotiating his future with the club. The Broncos are eager to get Wendell's signature on a new contract and Wendell is keen to continue his position as star winger for the Queensland team. "we won't be rushed into signing until we know what is happening in the club," Wendell's manager Barry Collins said.
One thing Collins and the Broncos are sure about is that Wendell Sailor is an enormous draw card both on and off the field. "He is the Michael Jordan of Brisbane," Barry said. "When it comes to personality players he's right up there. And on the field he has never played better. He is a proven performer at State level," Barry added.
Wendell is committed to re-establish himself as the star winger on the Australian team. We are all out here cheering for you Wendell. Keep up the deadly work. And keep reading Deadly Vibe for more about the Broncos stud, Wendell Sailor.