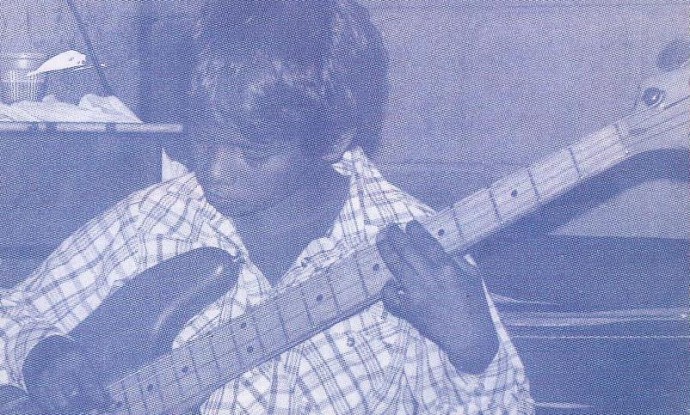 There's not many people who can claim that they have played in the same band as their grandfather… but Leroy Cummins can!
Leroy probably best known as a guitarist with Christine Anu and Mixed Relations, received his first guitar lessons from his grandad.
"He was a pedal steel guitarist and I played with him in my first band when I was 10. We covered the Shadows (daggie sixties twangy guitar band) and played country and western songs."
As a guitarist Leroy has been inspired by the likes of Steve Vai, Joe Satriani, Carlos Santana and Jimi Hendrix (sixties and seventies axe legends). But he also cites over more modern influences including rappers Tupac and Snoop Doggy Dog and Crooners Babyface and Jodeci. So it doesn't come as a big surprise to learn he's accompanied footballer-come-r4apper Anthony Mundine on a couple of tracks for Superleague clubs St George and the Brisbane Broncos.
He's also played with Kev Carmody and on recordings for Bangarra Dance Theatre. If it sounds like a bit of a fairy tale the truth is it hasn't always been easy. When he was only 16, Leroy moved away from his Kuku'yelandji (Cape York) home to live and work in Sydney.
He still misses his family but he's learned some invaluable lessons.
"If you think you've got enough to get by you've just got to go out and do it. The more you put into it the better you get. And the more other people see you and you get offers to work with them. So whatever you're doing whether it's sport whether you're in the workforce or in music, even if it means you've got to leave your family behind, you have to make a sacrifice. Don't wait until you're top notch at it. If you can do quarter of it or if you're half way there then that's good enough. When I first came to Sydney all I knew was basic riffs and power chords."
He also learned the value of surrounding himself with experienced people. "Once you're out there you see the professionals of the business and that makes you work a lot harder. And when you're in an environment with professional people it's so great and good for self-esteem you know. I've worked with some great people. Christine is very focussed, a very hard worker. And people like Archie Roach – just think, he came from nothing, he was one of the stolen children and look where he is today."
These days Leroy accompanies Christine Anu on her "intimate" acoustic performances but otherwise he's been jamming with Dreadnauts, a reggae band and concentrating on getting his own band together. He's not giving away too much about who's involved, only saying that he has an Aboriginal singer in mind and that the rest of the band will be multicultural'.
Remember you read it here first … Deadly Vibe