If you are young, like the outdoors and looking for a future in sport particularly golf, take heed.
The National Aboriginal Sports Corporation Australia (NASCA) is conducting Golf camps around Australia.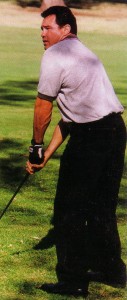 Tiger Woods, the golf sensation is a great role model for young people especially young Aboriginal and Torres Strait Islanders hoping to break into the sport.
NASCA held their first workshop recently at the Riverside Oaks Course in Windsor, north west of Sydney.
Our 20 year old Nicholas Carter (our pinup on the back page) was one of the 14 participants who underwent a two day intensive training.
Nicholas has been offered the opportunity to undergo a one-year Traineeship with the Mt. Broughton Country Club under the Sports Traineeship Scheme.
During the two day camp participants undergo skills training and career guidance. One of the camp highlights is a celebrity match with local Indigenous sporting celebrities.
The next workshop will be held in Brisbane in September. Members of the Gold Coast Charges and Brisbane Bullets are being approached already for the celebrity matches.
"Anyone can apply to attend a workshop whether you have ten days or ten years golfing experience" Peta Jobson events organiser at NASCA said.
"All you have to do is fill in an application form and link up to the closet workshop to you" Peta added.
There are no costs involved.
So if you think a career in golf is for you, give David Liddiard a call. His number is 02 9221 8665.