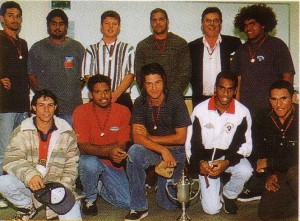 Most Aboriginal school boys into rugby would know of the Lloyd McDermott Rugby Development Team (LMRDT), an organisation that assists young Aboriginal and Torres Strait Islander involvement in Rugby Union.
Lloyd's rugby success has paved the way for budding young rugby players of today and his Rugby Development Team has already developed opportunities for young Aboriginal players to tour to China, Hong Kong and New Zealand.
Lloyd McDermott's ability earned him a scholarship for most of his schooling. He played rugby while he studied Law at Queensland University, playing against Fiji, France and the All Blacks. He went on to play two tests for the Wallabies against New Zealand in 1962. Lloyd was the first known Aborigine man to represent Australia in Rugby Union. Lloyd now practices as a barrister in Sydney.
"To have played at the highest level representing Australia is the fulfilment of a dream, "Lloyd said.
In 1991 a group of Rugby enthusiasts including Gary Ella, decided it was a national disgrace that only five Aborigines had represented Australia in Rugby. They formed the Lloyd McDermott Rugby Development Team (LMRDT) named as such as a sign of honour and recognition for the contribution Lloyd McDermott has made to Rugby Union.
The Development Team hold camps that mix rugby skills with personal and career development, providing guidance and support with study and employment.
"My parents and members of my extended family have been great influences on me both on and off the field," Lloyd said.
"I was taught Aboriginal values at a very early age. The respect structures the elders had in place prepared me for my personal struggle. This cultural, philosophical and spiritual wellbeing has prepared me for daily confrontations and challenges that life brings, "Lloyd added.
Last year the development team sent 33 schoolboys to Hong Kong and China on an overwhelmingly successful 18 day rugby tour. The undefeated team were overwhelmed with hospitality and landed an invitation to Government House to meet the Governor of Hong Kong.
This year 24 Aboriginal and Torres Strait Islander schoolboy rugby players take off on a rugby tour to Auckland and Rotorua, New Zealand.
Future offers have also come from Japan and Argentina. Rugby is played all over the world and these visits provide the opportunity for rich cultural exchange.