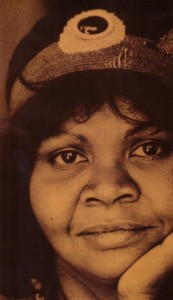 Ruby Hunter would have to be one of Aboriginal Australia's best- loved and respected female musicians – she's a jewel in the crown of Aboriginal music. Her rich, pensive 1994 album Thoughts Within have led to he being touted as Australia's answer to Joan Armatrading . And tracks from that album, such as 'A change is gonna come ' and ' let my children be ' have become staple fare on the indigenous music menu.
You'll find it difficult to find an Aboriginal event at which Ruby isn't appearing on stage with her partner – you may have heard of him, his name is Archie Roach.
As well as singing with Archie, Ruby's also recently been playing with her own band, Ruby Hunter and the Rotators. The band is all pretty young, with ages ranging from 18 to 20 years old. In fact, one of Ruby's own sons plays in the band
with her! As well as playing Ruby's own music, they also do covers of bands such as Coloured Stone and Tiddas and artists such as Bart Willoughby and Archie Roach.
Leah Purcell recently spoke with Aunt Ruby about some of the new music she's been writing.
Well, Aunt Ruby, tell us about some of your new tracks.
I've written a song called 'Do you love me the way I love you? 'to show my love for my whole family. The lads think it's a real catchie tune.
So, the new stuff, is it going to sound similar to Thoughts Within? And when can we get to hear some of this new music?
Thoughts Within was an introduction. The next album will be more hyped up. All the things I'm writing now are about today's lifestyle. About how we feel about life and how things are still affecting us today. How we survive through times of hardship. At the moment I've nearly got a whole album worth of music. The next step will be to get someone interested in releasing it.
What advice do you have on alcohol and drugs?
Alcoholism leads to many problems, same with drugs. A lot of people don't know how to cope with situations. But I'd just like people to think before they do anything. Because sometimes people do things for experimental reasons and they don't realise it can turn into a long term habit.
I'd like to give advice to young people who've not had a chance to experiment in those areas.
Just start thinking about being Aboriginal and being cultural, because we never relied on anything but our natural resources. Don't fall into the trap that you've got to do it because of your mates, because of peer group pressure. Let's see if we can have really healthy Kooris in 98, we're pretty healthy now but we could be healthier.
Positive thoughts indeed from our favourite gemstone, Ruby Hunter.