Name: Damien Armstrong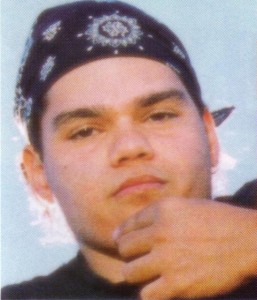 Where are you from? Arrente
Band: NoKTuRNL}
Position in band: Guitarist/Singer/Songwriter
How old are you? 19
How did you get into music? By listening
What's your favourite food? Kurra
What's been the high point of your career so far? Starting a band and playing original material
What do you do inn your spare time? Make money and fix my car. I never have any spare time so these things never get done.
Do you play any sports? Rugby and kickboxing
What's your favourite song? Sorrow – Pink Floyd
Besides your music what music do you listen to? I listen to Crimson/Talica/Public Enemy/Pink Floyd/Hendrix
What are you looking forward to in 1997? Getting heaps of gigs
Do you have a partner? Yes
If we opened up the top drawer of your bedside table what would we find? Nothing I throw all my clothes on the floor!
What makes you laugh? The last question and those who don't know what they're talking about.
What's your favourite movie? "Wrong Side of the Road"
Who do you admire the most and why? Jimi Hendrix, because his music crossed borders and because he didn't care what people said about him.
What do you like about yourself? My attitude
Where do you get your hair cut? I cut my own hair
When you were a kid, what did you want to be when you grew up? A singer in a famous rock band
Do you have a nickname? What is it? Yes, but it depends on who you ask.
What has been the most embarrassing thing that has ever happened to you? Being told that I was intelligent … for a black guy that is!
How would your best friend describe you? HE'S GOT A BAD ATTITUDE
Have you ever been in love? Nothing but music.