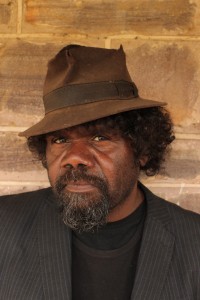 Regular listeners to Deadly Sounds may be familiar with a strange little ditty that is often featured on the show. It details one man's disappointment having bought a car in town, but which breaks down when he gets home.
The song is Motorcar Wiru and it's written and performed by a Central Australian man called Frank Yamma. It's a weird mix of styles – kind of Bill Haley meets the B52s.
As well as cars, Frank also writes about topics that affect him in the Northern Territory such as the life led by young Aborigines born into a world of alcohol. Frank is an impressive guitarist which may account for his nickname, 'Eric Clapton of the bush'.
Frankie grew up on a staple diet of music. His father, now deceased was one of the first Aboriginal Australians to be recorded singing contemporary songs in language such as his Pitiantiatiara rendition of 'Three Blind Mice'.
Frank went on to play with the Ulpanyali Band and in 1989 recorded an album with them which was released on the CAAMA label.
His time with another band, The Secret was often a long hard slog – in one month they travelled over 1,000 kilometres, performing in 28 different towns!
Most anyone who's anyone in Central Australia knows of Frank Yamma. It seems at times that every musician from Alice has played with him.
Outside of the area though, he's not got quite the same reputation. However, with the release of his latest album and a flurry of media attention that may soon change.
Cath Craigie, Deadly Vibe's newest reporter recently caught up with Frank Yamma.
Cath: I hear you've been recording with Bart Willoughby (Mixed Relations).
Frank: Yes, at ABC studios. The Song was Survival. Tiddas were singing like birds. And there's me going 'Hum,hum' in the background. I'm not quite up to their harmonies.
Cath: You've done a lot of support work for people such as Tiddas, Warumpis, Ed Kuepper. What's that been like?
Frank: It's good working with a lot of different bands, you get experience. I've been playing with some of the musicians from Amunda – we call ourselves Frankie Goes to Alice.
Cath: You seem to have struck up a relationship with the ABC. They've recorded a video of you at Port Fairy and something for Songlines.
Frank: Last time I came to Sydney I became a wanted man, dead or alive. Rachel Perkins got me to do two television things. You've got all these flash lights all in your eyes. It's a bit bright but I got used to it in the end.
Actually, I've done a few TV interviews before. They used to interview my old man and then they'd chuck the camera on me.
Cath: Tell us about your new album
Frank: It's called Solid Eagle. One of the songs on there is called 'Inside'. It's about when people live in a different world with four walls around them and it's talking about freedom, the need to get into the outside world.
I've got a lot of musicians playing with me on the album. It was quite good fun to record.
Frank Yamma will be appearing on the new ABC series Songlines. Atrack by Frank will also be available on the CD that's being released by the show.
And any day now, Frank's first full length solo album Solid Eagle will be released on CAAMA. Look out for it!