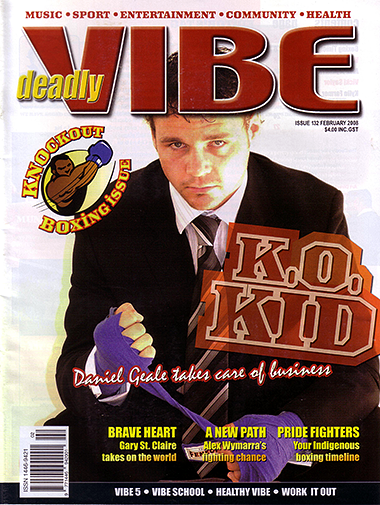 Deadly Vibe Issue 132 – February 2008
Daniel Geale etched his name into a proud legacy recently by becoming Australia's latest Indigenous world boxing champion.
It's 2004, and young Indigenous boxing hopeful Daniel Geale's dreams of boxing at the Athens Olympics have just been shattered.
Since his father took him to a boxing gym when he was nine years old, the young Tasmanian has dreamed of nothing else. So after winning Gold at the 2002 Commonwealth Games, losing his Olympic qualifying bout was a devasting blow which brought Daniel to the brink of quitting the sport.
"A few thoughts crossed my mind about whether this was what I really wanted." Daniel reflects. "I was working full-time and had sort of got back to a bit of normal life. But I'd had a taste of it and I knew that I wanted to box. It's what I love."
Four years on and the decision to follow his heart has paid off for Daniel in spades.
Late last year, Daniel outpointed Daniel Dawson, another highly rated up-and-coming Australian boxer, to clinch the IBO (International Boxing Organisation) middleweight world title in his adopted city of Sydney.
Three weeks after the bout, Daniel is still on top of the world and looking forward to the next step in a career now brimming with opportunity.
"My trainers and I had a plan and I was really stoked that I stuck to it," Daniel says of the fight. "I didn't do anything stupid. I didn't put myself in a position to get hit with any silly punches or anything, so it was good the way it turned out.
"I trained really hard for the fight and there were a couple of times where he (Daniel Dawson) had to pull out, but it was good to finally get to fight. I knew it was going to be a hard one, but I still went in there and did what I had to do. I performed well, and that was the main thing."
While late withdrawals and postponements often wreak havoc with a fighter's physical and mental preparation, Daniel says that ultimately the rescheduling of the fight was a blessing in disguise.
"At the time it didn't bother me that much," he says. "I wasn't too worried or anything, but looking back on it, it was probably a good thing, I found that I didn't fight as well as I should have in February, but as the year went on I fought better in October. By December I was fighting a lot better, so the fight being put off a couple of times worked in my favour."
Daniel also gives much credit to his trainers, including three-time world champion Jeff Fenech, who guided Daniel at the beginning of his professional career and was also in his corner for the title fight.
"When I first turned pro it was with Jeff and he sort of taught me a lot about the basics," Daniel reveals. "He has a confidence about him that sort of rubs off on you.
"He sees a lot of things in training and he can get me to do things really well. I started to forget about a couple of thing and when he came back and started helping me out everything sort of fell into place."
After a stellar amateur career which saw him clinch the Australian and Oceania welterweight titles and star at both the Commonwealth and Olympic Games, Daniel's pro record now stands at 18 fights for 18 wins with 12 knockouts.
Along with West Australian youngster Willie Kickett, Daniel is the most promising Indigenous boxing talent in Australia today, and his title victory has propelled him into some pretty handy company – joining the likes of Lionel Rose, Robbie Peden and Anthony Mundine as Indigenous world title holders.
But Daniel is far from ready to rest on his laurels, and knows there is plenty to do yet before he can truly rub shoulders with the truly great Indigenous boxing legends.
"It's awesome to know that I'm amongst the company of those guys," he admits. "But really I haven't thought about it too much.
"I try not to think about it at all, actually, because the way I see it, I'm still at the start and still have so much more to achieve. So I don't really want to think about that; I just want to make sure I keep improving, because there are a few top guys in my division that I really want to fight and beat."
Surprisingly, following Daniel's world title victory, not a single headline appeared in any of the major Sydney newspapers heralding the new champ. But while the likes of Mundine and Green dominate the media spotlight, Daniel is happy to stay in the background
"You know it doesn't bother me too much," he says of the lack of media recognition. "I'm not so worried at the moment. I've done pretty well so far, but I know in myself I've still got a lot more to offer. So I'm glad I haven't received heaps of media, because I might have got a little too confident in myself.
"I know what I have to do and I'm going to keep working hard until I get that."
After a brief rest, Daniel is already back to some light training.
"Got to keep the fitness up," he says.
In boxing, sacrifice is the price for glory, and with the IBO title in his back pocket, Daniel is now in the driving seat to challenge for bigger accolades in the division.
"We're still working out what's going to happen next," he says. "We've got a few options now and the title's put me in a really good position.
"My main motivation is my goals – to beat the top guys in the world. I'd like to win all of the world titles in my weight, that's my ultimate motivation. Also I've got my kids and my family now, so I'm trying to make a good life for them."
In the often circus-like atmosphere of professional boxing, filled with its flying wads of cash, caged chickens and American styled braggadocio, Daniel is content to replace trash talk and pre-flight antics with a humble, down-to-earth attitude. He is polite and well-spoken – the kind of kid you can't help but barrack for. In the ring he lets his fists do the talking and he possesses all the traits and the ability to make him a true champion of the country.
Looking back to 2004, Daniel says sticking with boxing was the best decision he could have made, and today he can't imagine life without it.
"I enjoy the confidence that you get from it," he explains. "I'm lucky that I've done well; usually I'm a pretty shy kind of guy, but boxing has brought a lot of confidence out of me."
And as for other young Indigenous people out there shooting for the top, Daniel offers the same advice which got him to where he is today:
"Never give up," he says. "Keep trying, no matter what. Keep working and stay focused – that's the key."