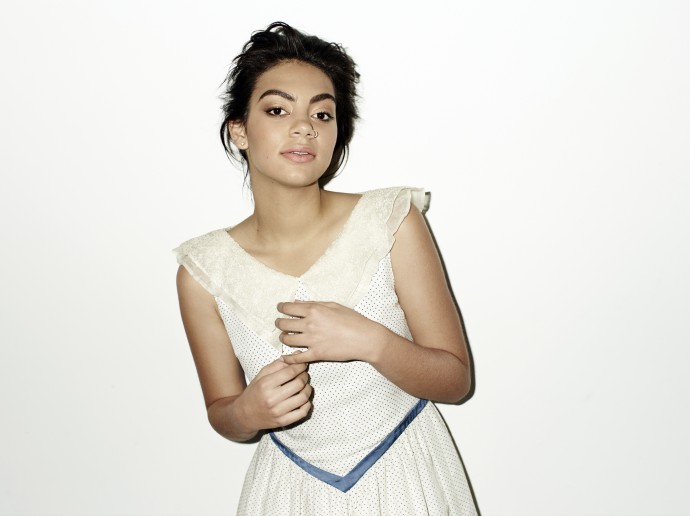 After grabbing the attention of the music aficionados and the industry with her debut EP, Rosie, Thelma Plum has shifted musical directions which are reflected by How Much Does Love Cost?, the first single off her new forthcoming EP, Monster – released in July.
Thelma told triple j that she "kind of stalked" renowned Australian hip hop producer, M-Phazes (Eminem, Bliss N Esso, Illy, 360), until he agreed to work with her but it paid off nevertheless, because collaborating with him helped her develop a hypnotic sound without compromising the heart of her music.
"I remember listening to Illy's album and thinking how great that was, and listening to the backing track and being like 'Wow this is amazing!'" she told Richard Kingsmill on triple j earlier this week.
"I went to one of Illy's shows in Brisbane and stalked my way backstage and was like 'You have to let me meet Phazes, You have to let me meet Phazes' and I guess kind of just stalked Phazes until he let me work with him."
Despite her young age, Thelma is already a seasoned performer and a welcome act on any stage. Completing a run of sold-out national shows in 2013, this year she will be bringing a full band onstage with her at the following shows, all on sale now.
Friday 4 July: NEWTOWN SOCIAL CLUB, SYDNEY NSW
Tickets available from www.newtownsocialclub.com, phone 1300 724 867
Saturday 5 July: NORTHCOTE SOCIAL CLUB, MELBOURNE VIC
Tickets available from www.northcotesocialclub.com | 1300 724 867
Thursday 10 July: THE OLD MUSEUM, BRISBANE QLD
Tickets available from www.oldmuseum.org
You can keep up with Thelma's music by following her on Facebook, Twitter, and Instagram.