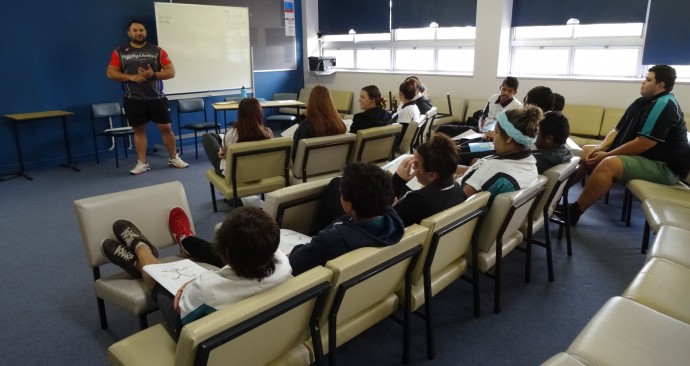 Awabakal Deadly Choices yesterday launched a healthy lifestyle schools program at Cardiff High School.
The program is aimed at educating and encouraging Aboriginal high school students in the Hunter to make 'Deadly Choices'.
Chief executive officer of Awabakal Newcastle Aboriginal Co-operative, Don MacAskill, says the program has been developed to specifically address the issues that young Aboriginal people face today.
"The program is designed to provide advice in partnership with a strong practical skills focus, relating to the links between diet and lifestyle factors, and chronic illnesses such as diabetes and cancer," he says.
"Aboriginal people have a significantly increased rate of chronic illnesses compared to wider society and this is a major contributor to the health gap. If we can educate young people to take responsibility for their health, we are empowering them to help close the health gap."
The program runs for seven weeks, with a two hour class every week focusing on a different 'Deadly Choice' and is part of the larger Deadly Choices program of which the Newcastle Knight's players Tyrone Roberts and Timana Tahu are role models.
The topics covered by the Deadly Choices team include leadership skills, harmful substances, physical activity, nutrition, and mental health. On completion of the seven week program, students receive their very own Deadly Choices jersey.
The program has a strong focus on leadership skills, asking students to identify leaders in the community and the qualities that make them a good leader, and then enabling students to apply this learning to their own lives.
"It is important as a community, that we educate and empower our young people to make better, healthier choices, be it in their diet, or in their relationships or friendships," says Don.
The schools' program will be rolled out across selected high schools in the Hunter over the coming weeks.
The Deadly Choices program nurtures leadership and encourages young Aboriginal people to become positive participants and role models in their community.
For more information on Deadly Choices, visit www.deadlychoices.com.au