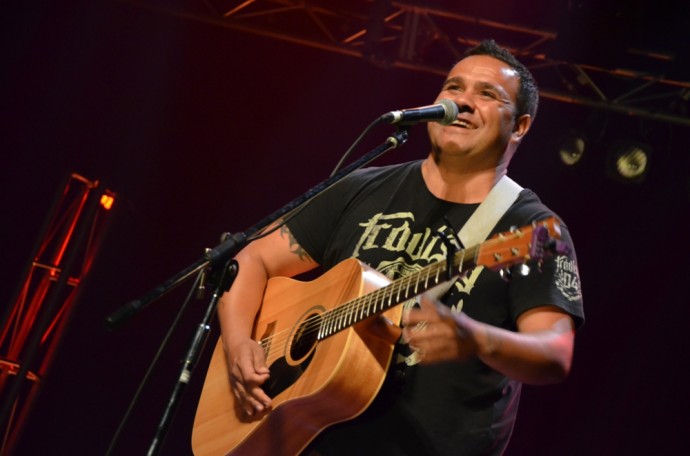 The winner of this year's Troy Cassar-Daley Indigenous Scholarship, supported by Arts NSW, is William Craigie, who was born and raised in the small town of Moree. Despite growing up in a household where no one really listened to music, his love for singing started early and has remained strong.
William says, "Growing up, my family weren't the most musical – they didn't like it that much – somehow I just got drawn to it and wanted to learn. I loved singing and I loved instruments, so I started with the guitar when I was 12 years old. I've never had any lessons; I am self-taught."
After starting out with a school band and doing local gigs for many years, William decided to change tack and pursue a career in the mental-health industry. Although music took a backseat for a while, William still "mucked around" with songs in his shed.
After coming across the Troy Cassar-Daley scholarship on the internet, he sent one of those songs through to a country-music producer in the hope of being considered for the scholarship. After hearing and loving the track, it was Troy Cassar-Daley himself who called William with the good news: "Mate, you're pretty amazing. You are the 2014 recipient!"
The scholarship involved a two-week intensive program that took place at the CMAA Academy of Country Music in Tamworth. While he was there, William gained experience and knowledge in areas such as music business, songwriting and performance.
"I was mentored by the best in the business: Kevin Bennett, Kasey Chambers, Sara Storer, Adam Harvey… we worked for 15 hours a day, staying up until midnight jamming, then getting up at 7am to do it all over again. It was crazy. I don't even know where the time went. Overall, the two weeks really opened my eyes to the realities of show business.
"Just seeing the lifestyle of these top artists really hit home for me more than anything. Now I can appreciate how hard it is in the music industry and what it takes to get to the top."
William was invited to sing with Troy at a recent concert and said he received an overwhelming response. "After we got off stage I actually got mobbed! All the crowd wanted photos and to shake my hand," he said.
"I know that my music can change people's lives and that makes me happy. It takes me to a place where all the drama is not going on."
Although there is always the chance he'll hit the big time in the country-music scene, William says his ultimate dream is to win a Deadly Award and perform in front of his people.