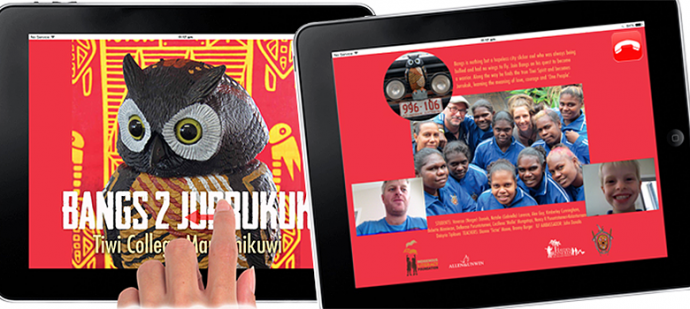 The Chatty Kidz and Indigenous Literary Foundation have teamed up to launch a simple, yet powerful app for reading with children, launched this week. 
The first book featured on the app is a compelling story, Bangs 2 Jurrukuk, written by senior girls from Tiwi Island and is a captivating tale which shares traditional Tiwi culture and values of love, courage and 'One People'.
The customised app is available free nationally and is a fun, enjoyable way for children and adults of all ages to engage in and share the joy of reading, no matter where they are located.
The app works by combining content and video seamlessly between readers, regardless of their location.
Chatty Kidz has launched the app amid recent excitement from industry locals and start-up accelerator muru-D, which is backed by Telstra.
The app has a number of strong educational advantages for children.  These include helping to develop early reading skills including exposure to print and reading behaviours, as well as building children's confidence to read aloud and developing important oral language skills.
The app also potentially offers a very real way for communities to connect and stay connected to cities. Younger siblings will be able to bond with their older brother or sister through shared story time.
How it works
The story is shared and comes to life as pages are turned in real-time by the both readers.  Words, colours and pictures are all sensitive to touch and highlighted when activated.  This widens the scope and educational opportunities for readers to interact and learn.
Karen Williams from the Indigenous Literary Foundation says the initiative brings them one step closer to their goal.
"We believe that Australia's Indigenous children and families living in remote communities across Australia should have access to the same opportunities as other citizens," she says.
"Yet the big barrier is not only distance but literacy levels.  Providing access to quality books at the same time as sharing the stories and creating a pleasurable reading experience is essential. This app is a fun way to not only connect isolated communities through reading, but also to enjoy the experience of combining books with technology. This should appeal to young children in particular."
Spiros Kotsialos of Chatty Kidz agrees. "I'm passionate about this project. My background is in publishing and technology, so to combine these two areas in such a practical way is a great opportunity to make a meaningful difference."
The app is free and due to be available to the general public from April 15, 2014.
You can download the free app HERE.